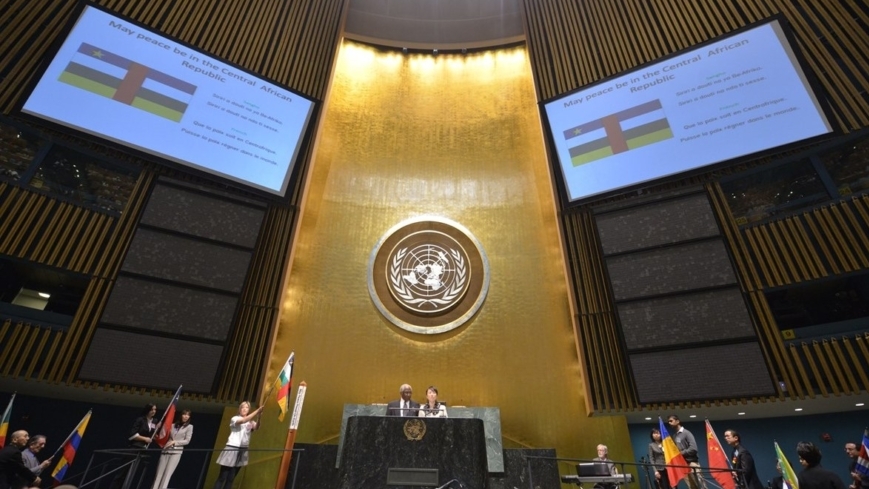 On February 14, 2013, a unique and uplifting occasion in the United Nations General Assembly Hall brought together the religions and nations of the world under the theme "United for a Culture of Peace Through Interfaith Harmony."
H.E. Mr. Vuk Jeremic, President of the 67th UN General Assembly, hosted the special event together with UNESCO and the Committee of Religious NGOs at the United Nations. Six UN Missions – Guatemala, Jordan, Iraq, Kazakhstan, Malaysia, and New Zealand – joined as co-sponsors, with Libya, the Philippines, Samoa, and Zimbabwe adding their support. Numerous NGO coalitions offered their collaboration as well.
The Goi Peace Foundation and its sister organization, the World Peace Prayer Society, also supported the event, contributing to the program contents.
The title "United for a Culture of Peace Through Interfaith Harmony" was chosen, recognizing the vital role of interfaith relations in fostering a global culture of peace. It was built on the foundation of three important UN resolutions that signaled an emergent spirit of cooperation:
Resolution A/Res/65/5 proclaiming the first week in February as the annual World Interfaith Harmony Week;
Resolution A/Res/67/104 on the Promotion of Interreligious and Intercultural Dialogue, Understanding and Cooperation for Peace;
Resolution A/Res/67/106 on the Follow-up to the Declaration and Programme of Action on a Culture of Peace.
This three-hour historic event – featuring eminent speakers from the United Nations, Member States, and NGOs, religious representatives, and musicians – drew to the General Assembly Hall more than 1500 people, including 500 high school students and 195 international flag bearers.
Goi Peace Foundation chairperson Masami Saionji and president Hiroo Saionji were invited as speakers to respectively introduce the Symphony of Peace Prayers offered by representatives of eleven faith traditions, and the World Peace Flag Ceremony.
During the Flag Ceremony, the entire audience enthusiastically sent a call for peace to each country as its flag was presented. The final flag of the United Nations was presented by Mrs. Ban Soon-taek, wife of UN Secretary General, while everyone recited "May peace be in the United Nations" and filled the General Assembly Hall with the shared call, "May Peace Prevail on Earth!"
Click here to view video at UN Web TV