Earth Kids Space Program
SHARE: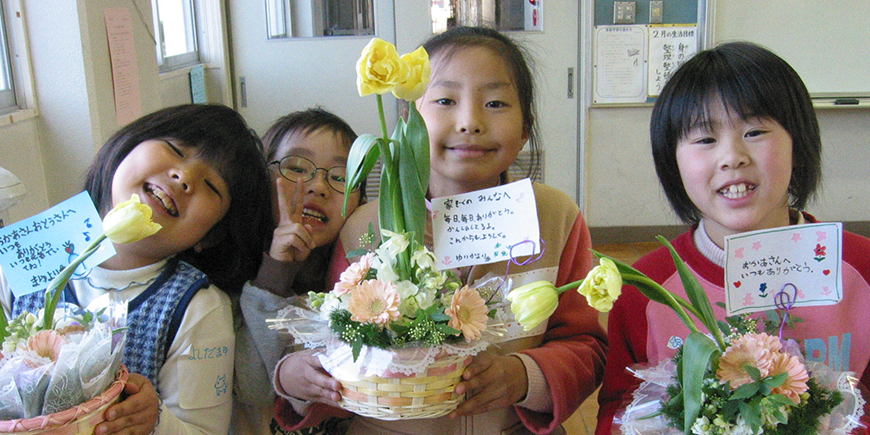 Earth Kids Space Program provides unique learning experiences for children in afterschool and weekend settings. It offers a safe space where children can fully express their potentials and qualities. At Earth Kids Space, children learn about peace and harmony, and respect for all life and the environment through cooperative games, stories, interactive workshops and outdoor activities.
In alignment with the objectives of ESD (Education for Sustainable Development), the Earth Kids Space Program fosters peace-loving, responsible global citizens from a young age.
Four core values are nurtured in children through various activities.
The Four Core Values
Global
Understanding
To foster a global perspective
and a spirit of appreciation
toward the Earth
Independence
To develop a sense of
responsibility for oneself
Harmony
To cultivate the ability to
initiate communication and
cooperation
Love and Peace
To nurture a spirit that
desires to be helpful to
people and society and to
contribute to peace
Dedicated volunteers coordinate the program and supervise the participating children, who are openly invited from the local area. Local experts are invited to demonstrate and teach various cultural activities, such as paper crafts, storytelling, outdoor activities, farming, tea ceremony, martial arts, theatrical arts and communication. Parents, teachers, senior citizens, and occasionally foreign residents and exchange students take part in the program to interact with children, while local schools, community centers and libraries provide their facilities for the activities.
Earth Kids Space Program was first developed by the Goi Peace Foundation in 2005 as a program commissioned by the Japanese Ministry of Education, Culture, Sports, Science and Technology. In 2010, the Earth Kids Space Program was recognized by UNESCO as an official activity of the United Nations Decade of Education for Sustainable Development (DESD, 2005-2014).
The program currently has 16 centers across Japan and in France, Italy and the United States. Also, the Earth Kids Caravan was launched in 2012 to bring the program to children in the areas affected by the Great East Japan Earthquake.
Activities
As a common code of conduct, every class begins with all participants reciting The Three Promises.
The Three Promises
"I will not
bother others."
"I will look
after myself."
"I will help others
when I can."
Most of the activities of Earth Kids Space Program have been creatively developed at each local classroom by volunteers who act as coordinators and supervisors. These activities and methods are then shared among the network as common educational resources.
Some of the successful methods employed include:
Imagining the future:

 Children are encouraged to imagine and share their future visions and dreams in groups, and learn that holding idealistic visions in their minds can become a source of strength in creating a positive future.

Life of immeasurable value:

Based on Prof. Kazuo Murakami's book The World Began from a Single Life, children learn about and appreciate the miracle of their own life and existence.

Experiencing agriculture:

With the help of local rice farmers, children learn how rice is made by taking part in the actual process of planting, harvesting and threshing, and appreciate the blessings of nature and food.

UN International Day of Peace:

Using visual materials such as booklets published by UNIC, world maps, country flags, cookbooks, etc., and joined by foreign residents in the community, children learn about the world in its diversity.
Impact
The program has made an enormous impact not only on the minds of children but also on their families and communities at large, contributing to revitalizing community collaboration and promoting local culture and inter-generational solidarity. The evaluation from a recent survey shows:
80% of the participating children say that they have developed valuable human relationships and appreciation for nature and the environment at Earth Kids Space. Some of the comments from children include, "I really understand now what it means to say that water is the source of all life," and "I want to learn more about our planet."
83% of the parents think that their children have developed positive attitudes and respect for others through the program. One of the parents testified, "My daughter has always used rough and impolite language. So I cannot believe it when I see her interacting harmoniously and cooperatively with others here. I think she has found a place at Earth Kids Space where she can feel free to be her true self."
81% of the local supporters think they have more communication with children within the community than before. A senior supporter says, "Earth Kids Space has brought the adults of the local community together to jointly foster the younger generation."
If you are interested in participating or volunteering or starting up a Earth Kids Space, please contact info@goipeace.or.jp
Resources
Earth Kids Space Activity Report
Education for Sustainable Development: Good Practices in Early Childhood
(Publication of UNESCO featuring the Earth Kids Space Program)