International Essay Contest for Young People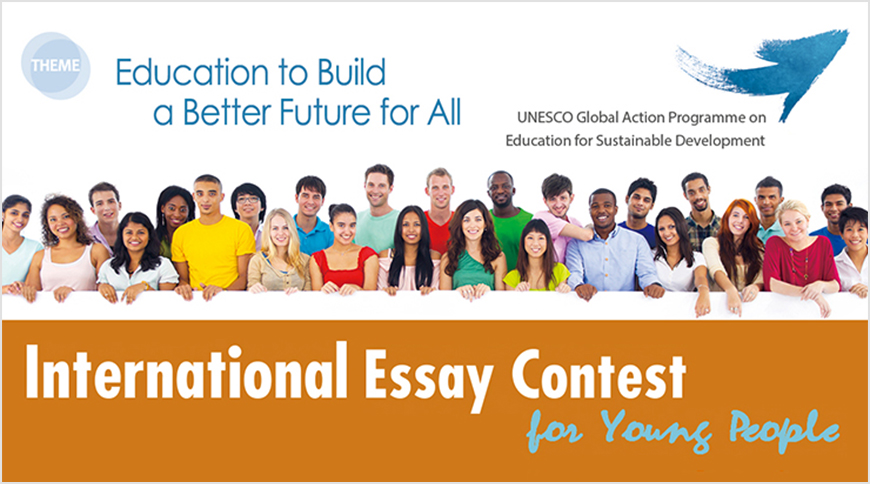 2016 International Essay Contest for Young People
RESULTS
We are pleased to announce the winners of the 2016 International Essay Contest for Young People.
From among 12,937 entries from 153 countries, the following winners were selected. We take this opportunity to thank all of you who participated in the contest!
First prize winners will receive the Minister of Education Award at a ceremony during the Goi Peace Foundation Forum 2016, to be held at Nikkei Hall in Tokyo on November 29, 2016. Certificates and gifts for other prizes will be mailed to the winners in November 2016.
Guidelines for the 2017 International Essay Contest for Young People will be announced on this website and through the Goi Peace Foundation mailing list and Facebook at the end of January 2017.
Theme
"Education to Build a Better Future for All"
We live in a world with many complex problems, both local and global. What kind of education and learning would help us address these challenges and create a sustainable world and a better life for all? Describe your concrete ideas for an ideal education.
List of Winners
(All ages are as of June 15, 2016.)
1st Prize
Children's category (1 entrant)
Youth category (1 entrant)
2nd Prize
Children's category (2 entrants)
Youth category (2 entrants)
3rd Prize
Children's category (5 entrants)
Youth category (5 entrants)
Honorable Mention
Children's category (25 entrants)
Youth category (24 entrants)
Best School Award
No School Applicable
School Incentive Award (43 schools)
Benemérita Universidad Autónoma de Puebla (México)
Chicago Futabakai Japanese School-Saturday School, Illinois (USA)
Colegio Horizontes, La Paz (Bolivia)
Escuela Preparatoria No. 8, Universidad de Guadalajara (México)
Federal Government Girls' College, Kabba, Kogi (Nigeria)
Fuji Sacred Heart, Shizuoka (Japan)
Fukushima Prefectural Asakakaisei Senior High School (Japan)
Gymnasium #1, Brest (Belarus)
Gymnasium 12, Minsk (Belarus)
Highland Lutheran International School, Enga (Papua New Gunea)
Hiroshima Nagisa Junior High School, Senior High School (Japan)
Ibaraki Prefectural Koga Secondary School (Japan)
Instituto Nicholas Roerich, México (México)
Iskandhar Schoolv (Maldives)
Japanese Supplementary School in Middle Tennessee (USA)
Japaniche Schule in Zurich (Hoshuko) (Switzerland)
Johor Bahru Religious National Secondary School (Malaysia)
Jonan Gakuen High School, Osaka (Japan)
Kinki University Wakayama Junior High School (Japan)
Kokugojuku KURU, Tokyo (Japan)
Kokushikan Junior High School, Tokyo (Japan)
Kyoto Gakuen Junior and Senior Highschool (Japan)
Matsumoto Shuho Secondary School, Nagano (Japan)
Meijo University Senior High School, Aichi (Japan)
Okinawa Shogaku High School & Junior High School, Okinawa (Japan)
Omori 6th Junior High School of Ota City, Tokyo (Japan)
OOU Lazo Trpovski, Skopje (Macedonia)
Paderewski Private Grammar School, Lublin (Poland)
Preparatoria 23, Universidad Autónoma de Nuevo León (México)
Rikkyo School in England, West Sussex (UK)
Roots Millennium Schools, Islamabad (Pakistan)
Sanonihondaigaku Secondary School, Tochigi (Japan)
Sadhu Vaswani International School For Girls, New Delhi (India)
Satri Withaya School, Bangkok (Thailand)
Setagaya Junior High School attached to Tokyo Gakugei University (Japan)
Showa Women's University Junior-Senior High School, Tokyo (Japan)
Sigaram Academy of Excellence, Tamil Nadu (India)
Sjkc Kong Min Cawangan Kedua, Penang (Malaysia)
Sugiyama Jogakuen University Affiliated Primary School, Aichi (Japan)
Teikyo Senior High School, Tokyo (Japan)
Tokyo Gakugei University International Secondary School (Japan)
Tshaphel Lower Secondary School, Haa (Bhutan)
Waseda Shibuya Senior High School (Singapore)
Essay Contest 2016 Entries by Region
Essay Contest 2016 Flyer (PDF)
English
Japanese
French
Spanish
German