School Lectures by Diplomats
SHARE: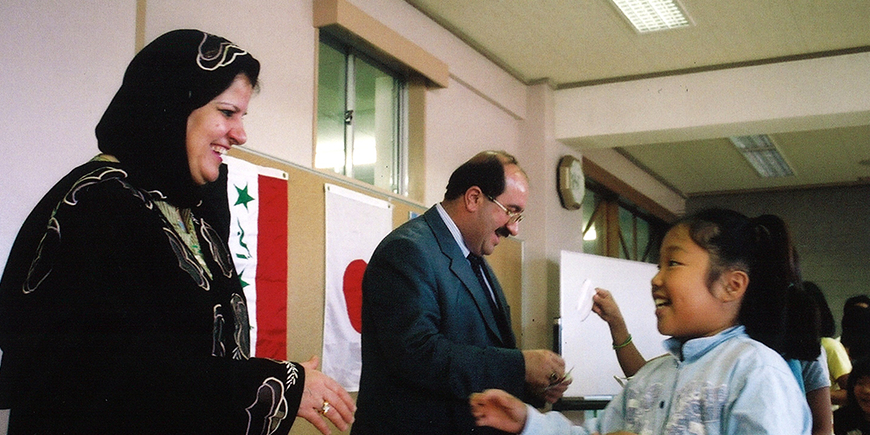 Learning to respect different ethnicities, faiths, traditions and customs is an essential part of creating unity in diversity. Collaborating with over 100 foreign embassies in Japan, the Goi Peace Foundation coordinates lectures by diplomats in schools and universities as a program for Global Citizenship Education.
Global Learning Program for School Children
In elementary and secondary schools, lectures by diplomats offer students a global learning experience. Through direct interaction with a nation's representative, children broaden their perspective to appreciate different cultures, traditions and customs, and at the same time, deepen their understanding of their own country from a comparative viewpoint.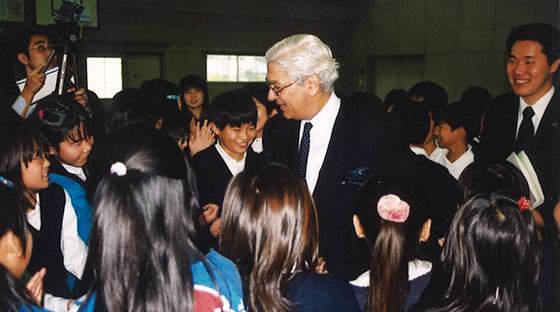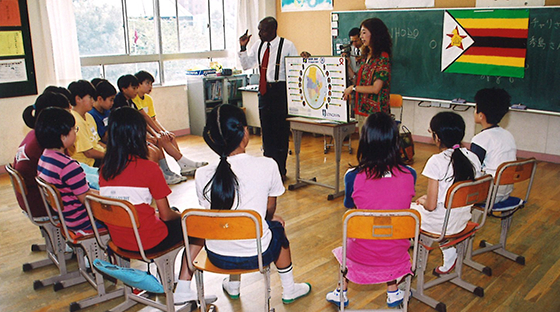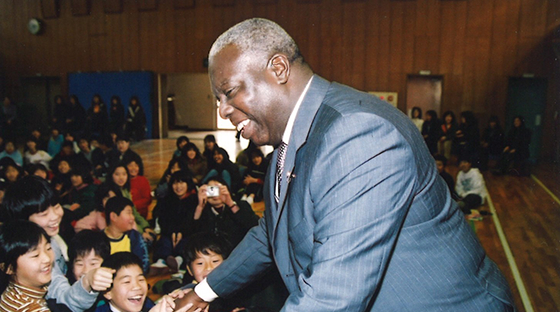 "Cultural Diversity in a Globalized World"
Lecture Series by Ambassadors at the Gumna Prefectural Women's University
Respecting and understanding other cultures is an essential precondition for any constructive dialogue between peoples. Since 2005, the Foundation has been co-sponsoring a course at the Faculty of International Communication at Gunma Prefectural Women's University, inviting ambassadors of different countries as guest lecturers to address topics such as effective communication in diplomacy and approaches to peace-building in the globalized world.
In addition to the ambassadors, NGO representatives and experts in peace-building are also invited as lecturers.
While this course is a part of the formal curriculum, the general public is also welcome to attend the lectures free of charge. Each class is 90 minutes including time for Q&A.
Due to the COVID-19 pandemic, the entire 2022 Lecture Series was cancelled. Thank you for your understanding.  
2019 Lecture Schedule
Date
Lecturer
Theme
May 14
Mr. Hiroo Saionji
President of the Goi Peace Foundation
Introduction: "Dawn of the Era of REIWA and Creating Peace"
May 21
H.E. Mr. Manlio Cadelo
Ambassador Extraordinary and Plenipotentiary of the Republic of San Marino
The Republic of San Marino and Japan
June 4
Ms. Sayoko Terada
Chairperson, Kokkyo naki Kodomotachi (Children without Borders) Japan

Children Whom I Have Encountered

June 11

H.E. Mr. Ayman Aly Kamel




Ambassador Extraordinary and Plenipotentiary of the Arab Republic of Egypt

Current Situation in Egypt and Expectations for Japan

June 18
H.E. Mr. Jacek Izydorczyk
Ambassador Extraordinary and Plenipotentiary of the Republic of Poland

100 Anniversary of Diplomatic Relations between Poland and Japan

July 2

Ms. Govher Berdiyeva




Attaché of the Embassy of Turkmenistan

Turkmenistan as a permanently neutral state

July 16

Ms. Natsuki Yasuda




Photo journalist

Work to Convey through Photos:




From Disaster and Conflict Scenes

July 23

Ms. Megumi Nakamura




Special Assignment (External Relations), Japan Association for UNHCR

The Role of UNHCR: What We Can Do for Refugees

July 30

H.E. Dr. Grant R. Pogosyan




Ambassador Extraordinary and Plenipotentiary of the Republic of Armenia

Discover Armenia

October 1

Dr. Yasushi Akashi




Former Under-Secretary-General of the United Nations

Surviving in Multi-cultural World

October 29

H.E. Mr. Harold W. Forsyth
Ambassador Extraordinary and Plenipotentiary of the Republic of Peru

Peru – Japan Facing global challenges

November 5
Ms. Rumiko Seya
President, Japan Center for Conflict Prevention

How We Should Tackle Conflicts and Terrorism: Works for Conflict Prevention and Peace Building

December 3

H.E. Mrs. Faalavaau Perina Jacqueline Sila-Tualaulelei




Ambassador Extraordinary and Plenipotentiary of the Independent State of Samoa

Peace and Security in the Globalized World

December 10

Mr. Masaharu Kono




Government Representative of Japan

"

TOKYO 2020

"

: Ideal and Reality of Peace

January 14
Mrs. Randrianjafy Tsilavo Maherizo
Chargé d'Affaires ad interim of the Republic of Madagascar

Madagascar: Asian Culture in Africa
Contact information for Gunma Prefectural Women's University