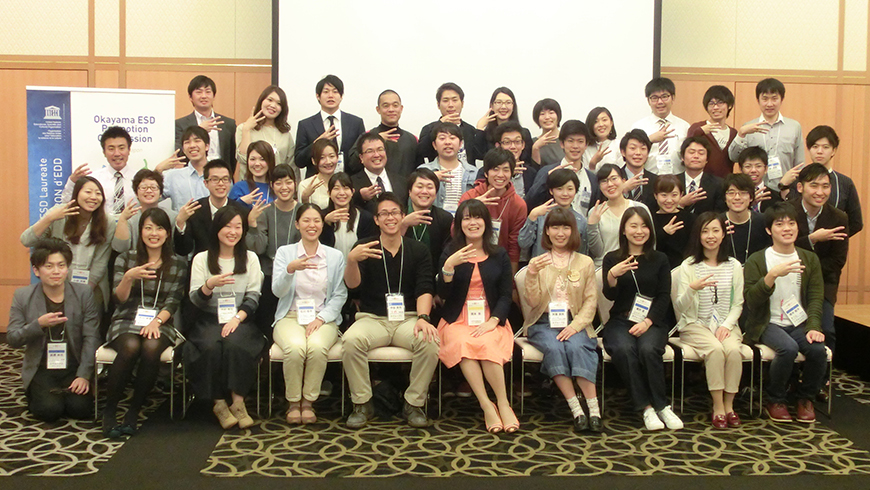 The annual ESD Japan Youth Conference is organized by the Goi Peace Foundation in partnership with the Ministry of Education, Culture, Sports, Science and Technology of Japan (MEXT) and the Japanese National Commission for UNESCO, to offer students and young professionals from various fields a platform to come together and engage in dialogue and peer learning to enhance their ESD practices.
Since the first conference in 2014, the ESD Japan Youth Conference has been instrumental in promoting youth involvement in ESD. A national ESD youth network has emerged out of this conference, and continues growing year by year.
As a Japan-UNESCO Partnership Project, the 3rd annual Youth Conference was held in Okayama City, which hosted the UNESCO ESD Youth Conference in 2014 as part of the World Conference on ESD. The Okayama ESD Promotion Commission became the first Japanese laureate of the UNESCO-Japan Prize in October 2016.
The conference invited 45 youth leaders (18-35 years old) from across Japan to gather in Okayama City. The participants exchanged their knowledge and experiences to further advance this youth platform and to catalyze increased collaboration and innovation in ESD.
The 3rd ESD Japan Youth Conference
22-23 October 2016 ・ Okayama, Japan
Day 1 – "MEET" & "CONNECT"
During the opening plenary, Hiroo Saionji, President of Goi Peace Foundation and member of the Japanese National Commission for UNESCO, and Junko Okuno, Director-General of Civic Collaboration Bureau, Okayama City, welcomed the participants.
A keynote address was delivered by Aya Okamoto, Unit Chief of the Office of the Director-General for International Affairs, MEXT. Ms. Okamoto touched upon the basic concepts of ESD and the ESD-related activities of the Japanese Government, UNESCO, local authorities, private entities and schools. She stressed the importance of building a youth network while maintaining eight key viewpoints on ESD: vision, consistency, balance, engagement, innovativeness, collaboration, transformation and versatility.
Next, participants viewed video messages from Felix Spira (Germany), Executive Director and Co-founder of rootAbility, and Corrina Grace (Australia), Founder and Executive Director of SERES (Supporting Ecological Resilience and Environmental Sustainability), both of whom participated in the UNESCO ESD Youth Conference in 2014 and received the UNESCO-Japan Prize on ESD in 2015.
Ayaka Ishikawa, a public school teacher who participated in the 2nd ESD Japan Youth Conference, shared her experiences while touching upon the value of connectedness among youth leaders.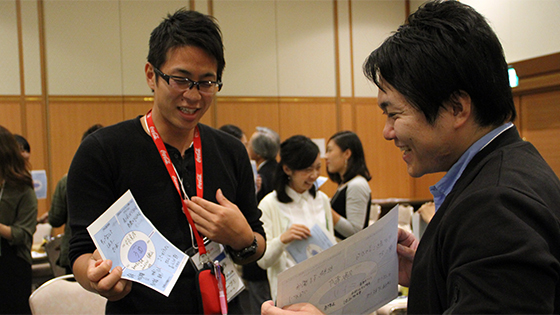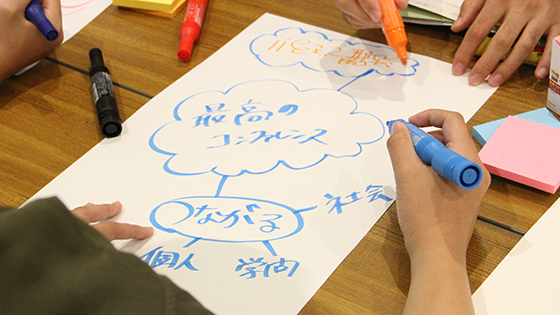 The participants were divided into groups and engaged in activities to get to know and connect with one another. They shared their own life stories and their motivations for being involved in ESD, introduced good practices, challenges and visions, and discussed how youth can contribute to a better future. They showed great interest as they listened to and learned from each other.
During the networking dinner, the participants exchanged views on various challenges that arose during the pre-conference online discussion, and joined in small-size workshops and dialogues organized by volunteers for further learning.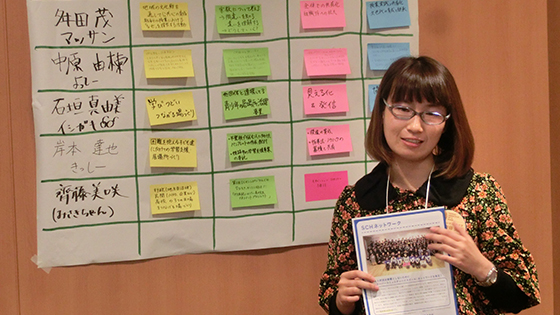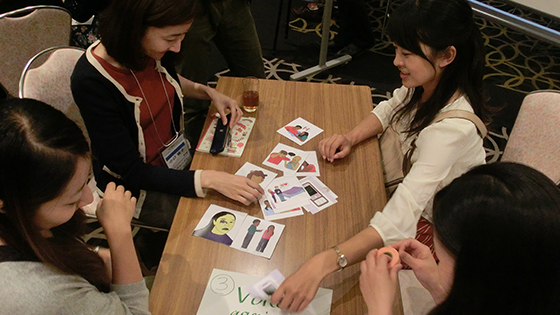 Day 2 – "CREATE"
In response to the high expectations put on youth by the Japanese government and the international community, the youth leaders continued their work to connect with and learn from each other, and to take collaborative actions to develop the youth platform, involving an increasing number of ESD actors from various age groups.
While sharing a common interest in ESD, the participants have backgrounds in a number of different fields, including the environment, international understanding, peace, disaster prevention and agriculture. They also belong to various institutions and organizations—universities, schools, NPOs, NGOs and local governments. In groups, the participants discussed how they can join hands in collaboration while sharing their unique experiences and ideas.
As a result of the group discussions, six collaboration teams were created with the following themes.
Developing ESD programs using local resources
Expanding and activating the ESD youth network
Organizing events and disseminating information on ESD
Creating opportunities to practice ESD by visiting each other's workplaces
Sharing experiences and information to spread ESD in schools
Each collaboration team presented its plans to implement its respective theme, listened to feedback from other teams and then further honed its plans.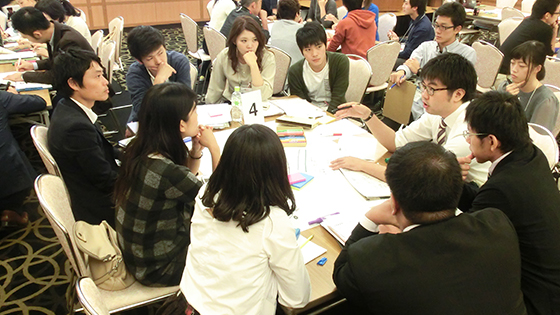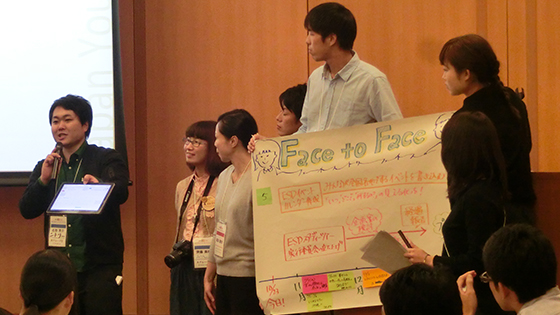 At the end of the Youth Conference, all the participants gathered in a large circle and shared their personal commitments regarding how they will continue contributing to ESD and to society.
Their statements included the following:
"I'd like to activate this youth platform and pass it on to future generations."
"I want to take action, as I know interesting people and unique places to practice ESD."
"I'll put together the ideas I shared at this conference into teaching plans and apply them at my school."
After the conference, the participants shared their experiences and new knowledge on Facebook, Twitter and other social media, and in so doing have reached out to more than 10,000 people in just one month.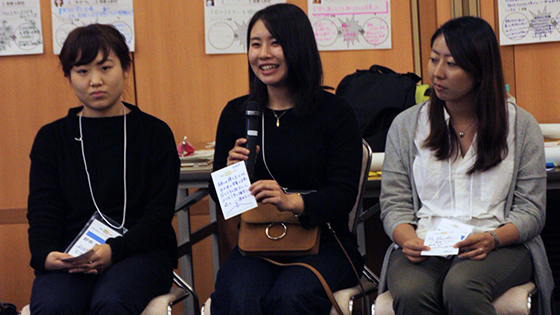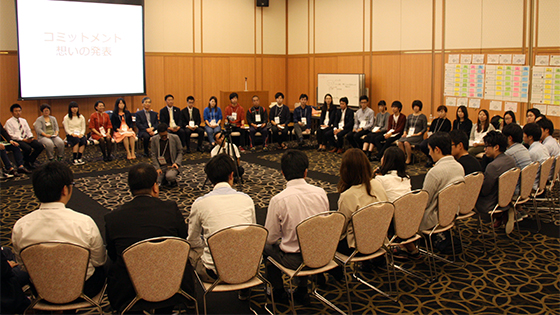 ESD Japan Youth Platform Meeting
28 January 2017 ・ Tokyo, Japan
Following up on the 3rd ESD Japan Youth Conference held in October 2016, the ESD Japan Youth Platform Meeting was held to bring together alumni of the first three ESD Japan Youth Conferences, as well as their fellow educators who practice ESD to expand their network, and to further develop the youth platform in Japan. About 20 people from different parts of Japan participated in the meeting.
Welcoming the participants, Ms. Aya Okamoto, Unit Chief of the Office of the Director-General for International Affairs of MEXT, wished them success in their meeting and said, "Those of you who are university students will start to work in various fields in a few years and can stay connected with each other through ESD for a long time."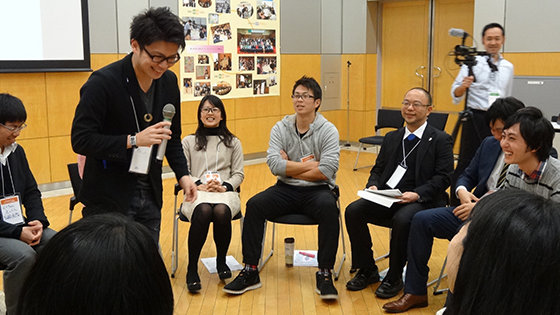 Members of five collaboration teams reported the progress of their activities in the three months since the 3rd ESD Japan Youth Conference.
'Team Tatsumaki'
(an abbreviation of
tanoshiku
– joyfully,
tsunagu
– connect,
makikomu
– involve, and
kizukiau
– learn from each other) reported that seven collaborations were created among the team members, each of whom have different strengths, and that some of these have already taken place in the form of visits to each other's workplaces.
'Team KSK'
(an abbreviation of
kasseika
– empowerment or activation) reported on three projects in progress. An elementary school teacher from Wakayama Prefecture introduced his idea that the 'finest spice' for school kids is a hunger to learn more. He remarked that it is important for teachers to know how to make their kids yearn to learn.
'Team ESD Youth Connection'
reported that the Facebook page
ESD Japan Youth Information Channel
, which was created after the 2
nd
ESD Japan Youth Conference in 2015, has grown to an online platform with more than 600 registered members. Through this platform, conference participants and their community peers stay connected and actively exchange information, and their ESD activities continue expanding. Likewise, they reported that ESD youth are gathering in local groups from time to time to exchange information and opinions on ESD.
'Team Face to Face'
shared their future plans, such as organizing study sessions and events on ESD around Japan and involving more university students and foreign students in the youth platform, where the members respect each other and can boost their self-confidence.
'Team PPAPP (=Peer-Prepare-Action–Progress-Peer)'
introduced some of the good practices in which members are involved, such as a lesson on using lumber from Japanese forests, and another on creating 'companies' of vegetables, handmade products and woodworks, and earning profits. These were introduced as practices to help spark children's interest in learning and to experience success in their classrooms. The team noted that they hope to do further research on the development of ESD materials in the future.
Following this, Ms. Yuri Nakao from Japan and Mr. Chia Mu Kai Dennis from Singapore, both participants of past ESD Japan Youth Conferences, shared their stories about how they have connected with ESD friends and exchanged experiences and ideas since their participation in the programs.
At the opening of the afternoon session, Ms. Tomoko Shibao, Vice-director of the ESD Activity Support Center, mentioned that five of the eight Youth ESD reporters the center has appointed are alumni of past ESD Japan Youth Conferences, and that they extensively cover stories of ESD activities in their local areas.
The participants then all joined in a workshop called "Platform," prepared and facilitated by 'Team Face to Face.' Through this activity, the participants revealed more of themselves to their peers, and in so doing further deepened their connections with one another.
After the workshop, the participants moved on to a Youth Dialogue Session entitled "Envisioning the Future." They brainstormed on how they can help to activate the ESD Japan Youth Platform, and what each of them can contribute to its development.
At the beginning of the session, Ms. Okamoto of MEXT asked the youth to think specifically about what the members of ESD Japan Youth can do to implement the UN Sustainable Development Goals (SDGs) by the target year of 2030.
Finally, all the participants shared what they learned and discovered at the meeting, and discussed their future plans. They concluded by reaffirming the value of interconnectedness among ESD youth.
Some alumni of the ESD Japan Youth Conference who could not make it to Tokyo that day watched a live webcast of the event, held a Skype conference with the participants who were at the venue, and shared their comments during the meeting as online participants.