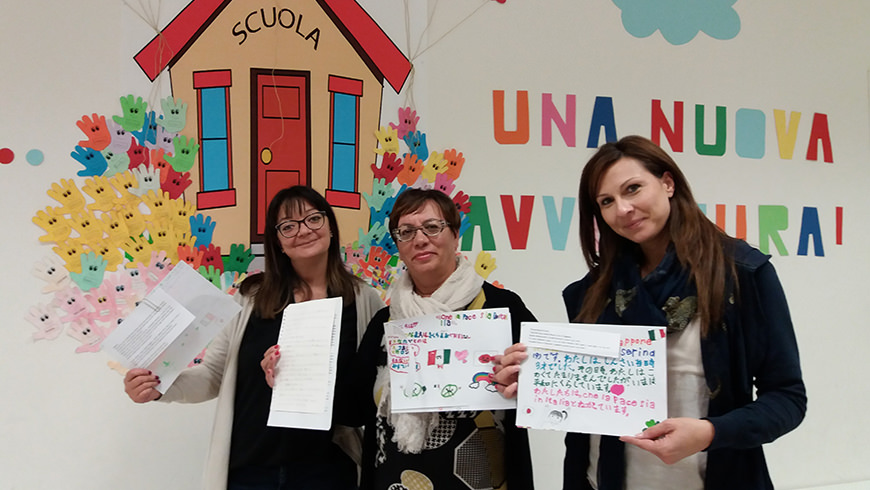 On October 30, 2017, one year after a major earthquake hit Central Italy, a representative of Earth Kids Space in Italy, Ms. Sonoko Tanaka, visited three elementary schools in Trentino to deliver letters and gifts of artwork from children at Earth Kids Space in Oshu, Iwate who had also experienced the Great East Japan Earthquake in 2011.
In Trentino, many people are still living under difficult conditions. Some of them have been forced to evacuate their homes, and have no choice but to live in temporary housing, camping cars and houses of their relatives or friends. Sonoko spoke to the students and joined them in expressing gratitude to the fact that there were miraculously no casualty in the area and that even in hardship, they were all alive and their families were safe with food, clothes and a place to sleep. She then presented the letters and gifts from the Japanese children showing their friendship and solidarity.
In one of the letters, Rin Kanno wrote about her own experience during the earthquakes. "What I learned from the earthquakes were that people can keep on smiling even in difficult moments. When you smile at others, they will smile back at you. And when you see others smiling, you will feel more cheerful and energized. Smiles are like magic. It is true. So please do not forget to smile at all times." The Italian children resonated with her words and seemed to be greatly encouraged by them.
As Sonoko visited each classroom and presented the letters and artwork from the earth kids in Japan, everyone listened attentively and were touched by the thoughtfulness of their peers in a faraway country. The classrooms were filled with applause and