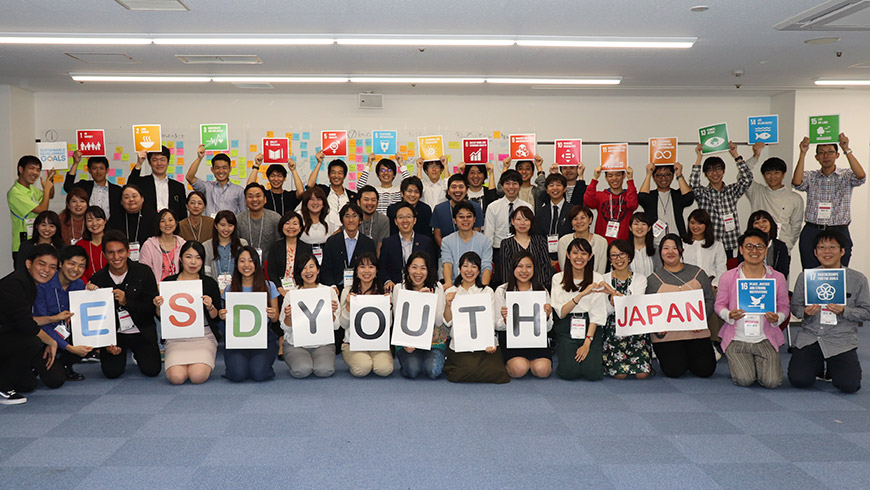 Creating a Better Future through Education
The annual ESD Japan Youth Conference is organized by the Goi Peace Foundation in partnership with the Ministry of Education, Culture, Sports, Science and Technology of Japan (MEXT) and the Japanese National Commission for UNESCO, to offer students and young professionals from various fields a platform to come together and engage in dialogue and peer learning to enhance their practices in Education for Sustainable Development (ESD).
Since the first conference in 2014, the ESD Japan Youth Conference has been instrumental in promoting youth involvement in ESD. A national ESD youth network has emerged out of this conference, and continues to grow year by year. As a Japan-UNESCO Partnership Project, the fifth annual Youth Conference was held on 13-14 October, 2018, in Aichi-Nagoya, which also hosted the World Conference on Education for Sustainable Development in 2014.
The conference invited a diverse group of 49 youth leaders (18-35 years old) including teachers, university and graduate school students, NGO staff and others from across Japan to gather in Nagoya. They exchanged their knowledge and experiences to further advance this youth platform and to spark increased collaboration on shared visions and joint projects in ESD.
Prior to attending the Youth Conference, the participants held two online meetings, through social media and video conferencing, to meet each other and start discussing their understanding of ESD.
The two-day conference was divided into five parts:
Part 1: "Begin the journey, get our footing, and relax"
Part 2: "Connect deeply with oneself and with peers"
Part 3: "Discuss thoroughly and learn from each other"
Part 4: "Envision our future and begin our individual and shared challenges"
Part 5: "Step forward. Ending is a new beginning"
Day 1
Begin the journey, get our footing, and relax
What can we do to solve the various issues we face in today's world and to nurture a sustainable society where everyone can live happily? What role can education play in furthering these aims? And what kind of contributions can we make as individuals?
The two-day program to explore this grand theme began with an icebreaker called "Concentric Circles", to help participants get to know each other in a relaxed atmosphere. First, the participants shared their feelings on simple topics such as "how to spend your holidays". Eventually, they moved on to deeper topics such as "the future you want to create" and "your feelings, expectations and concerns about the conference". As the participants rotated around the two circles, they exchanged views with their peers who would be joining them on this two-day 'journey'.
Participants' reflections on this activity included the following:
 "Everyone in this room listens to me carefully, and I feel accepted."
 "It is not easy to verbalize the future I want to create."
 "I am happy because there are many people I can talk deeply with about ESD, and they understand my ideas."
In the latter half, the participants shared what they know and don't know about ESD, and learned from each other in order to 'get their footing'. Through this process, they seemed to be able to visualize more concretely what they wished to learn from this conference, and the direction they wanted to take going forward.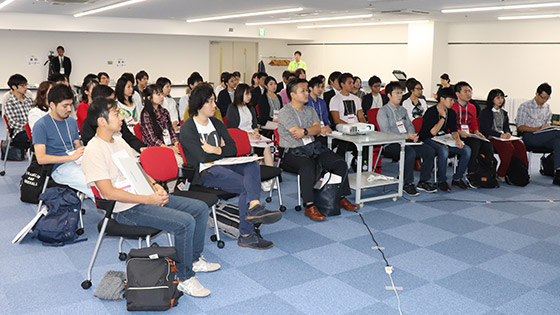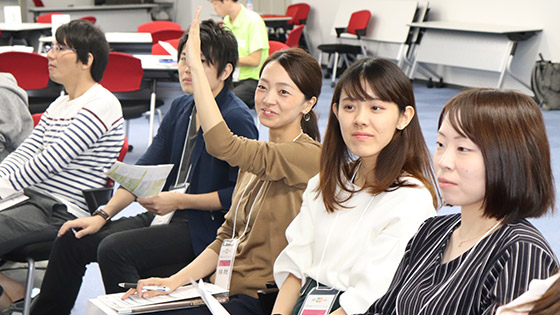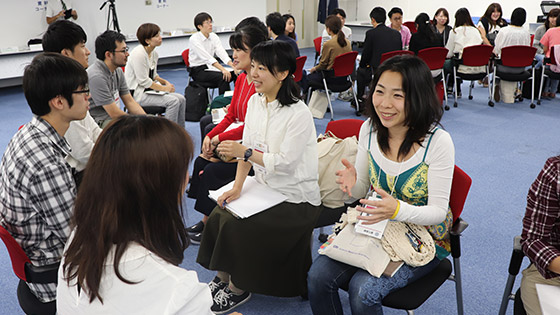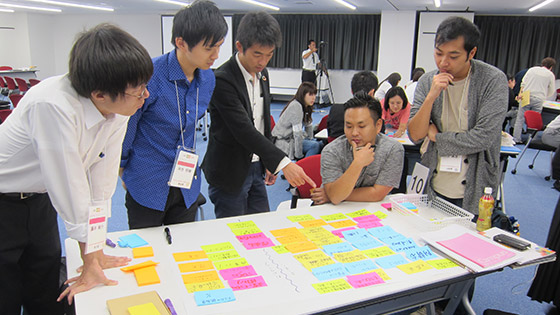 Connect deeply with oneself and with peers
After two more icebreaker activities and then a break for lunch, the afternoon session started with storytelling in small groups, to help participants connect more deeply with themselves and with their peers. They shared the main themes of their various ESD activities, how they got involved, the challenges they've had to overcome, and their future tasks and objectives.
The participants not only thought about how they first became involved in ESD, but also looked deeper inward, asking themselves questions like "What kind of path has my life taken up until now?" and "Why am I here today?" After that, they shared their respective stories with the other members of their group. It was a session of a deep dialogue among peers.
The 49 participants had gathered together around the common keyword 'ESD', but each had his or her own unique story. It was truly a 'gathering of diversity'. Through this storytelling session, the members of each group deepened their mutual understanding and strengthened their bonds.
Many positive comments were shared by participants regarding their deeper sense of self and the connections they made with like-minded peers:
 "All of us here are so enthusiastic!"
 "The time flew by so fast!"
 "I was so happy to get feedback from my peers."
 "By telling my own story, I got to know myself better."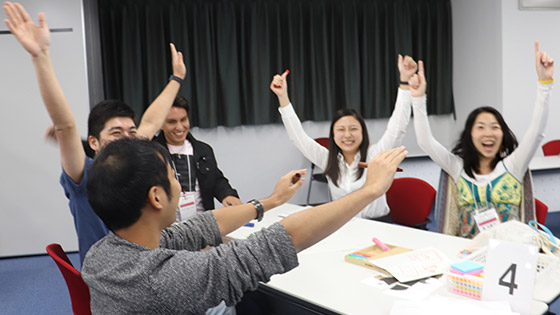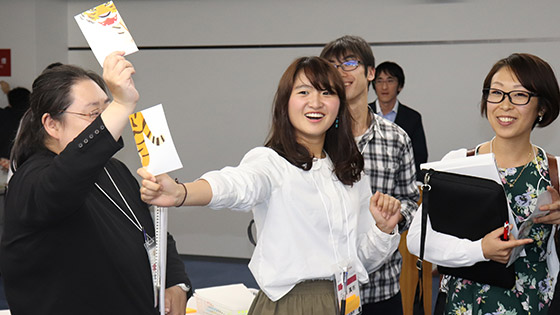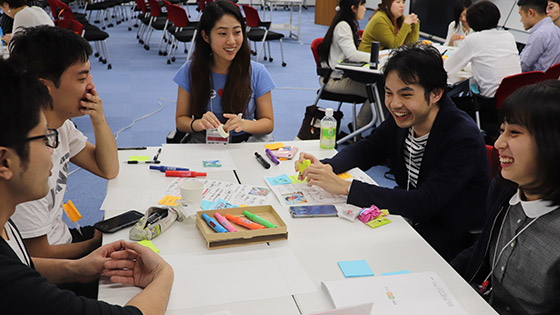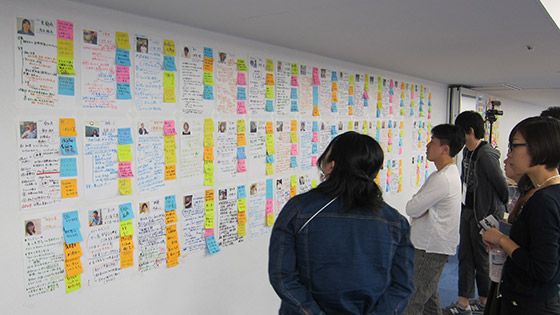 Discuss thoroughly and learn from each other
After dinner, six volunteers proposed topics for peer learning workshops. Each participant joined one of the six workshops, for a time of meaningful dialogue and learning from one another.
Understanding human rights through games
Let's become ESD teachers!
Sugoroku (a Japanese board game) for sustainable communities
Experience the tropical peatlands!
Community-building through problem-solving from a family perspective
Solving complex problems through cause-and-effect
In each workshop, participants were able to gain valuable learning from the diverse perspectives and experiences of their peers engaged in a variety of ESD activities.
Next, a leadership training program was delivered by Mr. Kyohei Kuramashi, a producer for a major advertising agency who is also known as 'multi-business practitioner'. Mr. Kuramashi gave a talk on how to enlist the help of our peers in the challenges we face. His message was that the best way to resonate with peers, gain more supporters, and involve them in our activities is to first join other people's teams, with the idea that one person's strength compensates for another person's weakness.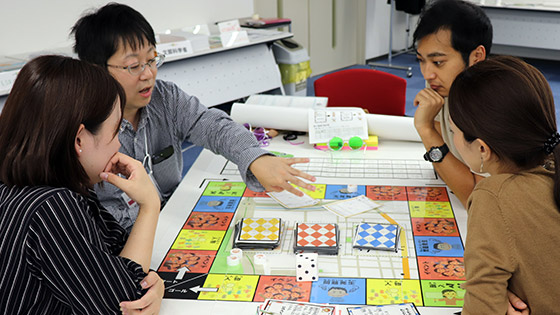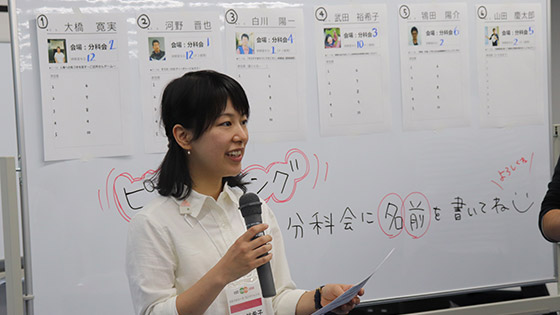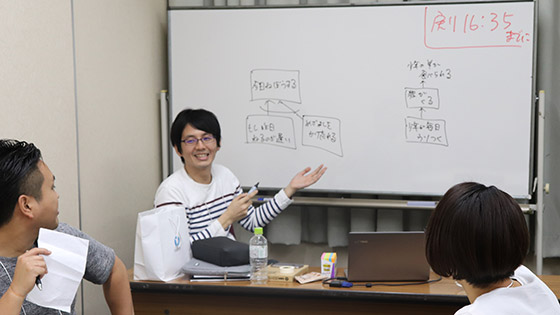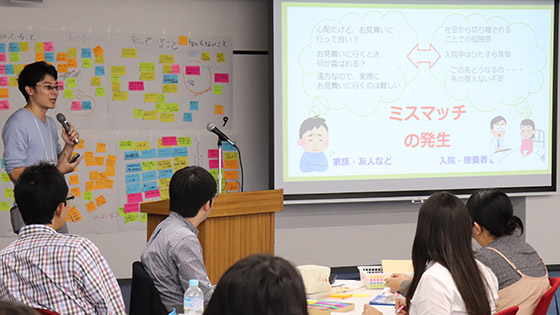 After dinner, an open space was held in which volunteers proposed topics that they would like to discuss with others.
Small group discussion topics:
Why is youth involvement important?
Let's create an ESD resource 'grab bag'!
How can we help people with developmental disorders live better lives?
Social Activities x Persistence
Students
Education and community vitalization
What school education could be
The limits of capitalism
Environmental learning that gives us hopes and dreams
YouTube x ESD, SDGs
Participants moved freely from one discussion table to another, based on their own interests.
At the conclusion of day one, the participants shared their ideas about topics to explore, discuss and try out with other members. It was a productive day in which strong bonds were formed among participants who were meeting each other for the first time. Even after the sessions, participants continued to actively share and exchange ideas using social media.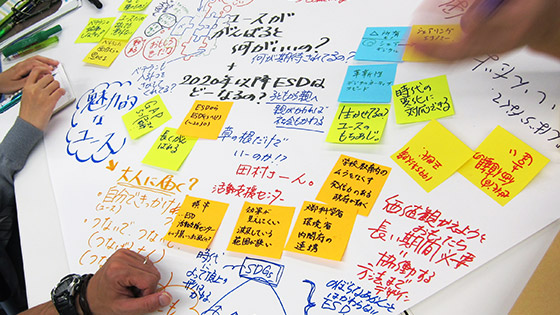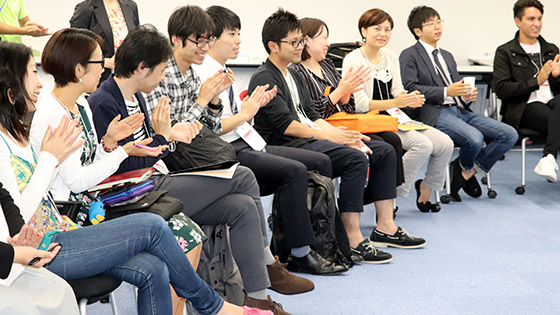 Day 2
Envision our future and begin our individual and shared challenges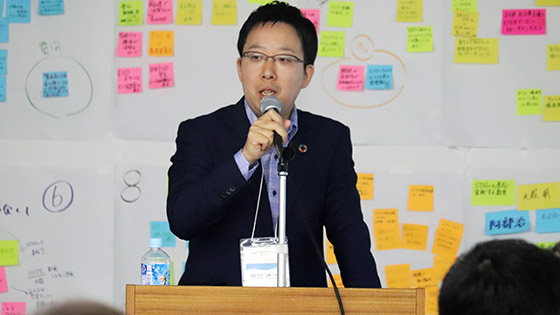 The second day began with a keynote address by Mr. Kenji Tamura, Unit Chief of the Office of the Director-General for International Affairs, MEXT. Mr. Tamura touched upon the core values of ESD and the further enhancement of the Sustainable Development Goals (SDGs), as well as the importance of building a youth network for a sustainable society. He also answered some of the questions raised by participants.
After the talk, participants started to envision the future. First, they hopped on a 'time machine' and looked back at new developments over the past decade. In this way, they began to broaden their vision of the future they would like to create.
After the session, the participants thought more deeply about what kind of future can emerge as their individual activities begin to blossom. They listened to their own inner voices as well as the diverse values of their peers.
With the target years 2020 and 2030 in mind, participants shared their feelings and concerns about the future from various points of view:
 "As I talked with my peers, so many plans and ideas have arisen. I don't know which one to try!"
 "I've met so many people and encountered so many different values, I'm feeling a little confused about my own path."
Based on the dialogues with their peers, each participant shared his or her vision for creating a better future, and gave some thought to developing his or her own individual project.
After that, Mr. Kenshu Kamura, Specially Appointed Associate Professor of Tokyo Tech Academy for Leadership of the Tokyo Institute of Technology, who also facilitated the conference, gave a talk on "tips for project management". Mr. Kamura shared his experiences with collaborative projects and teambuilding in an easily accessible manner.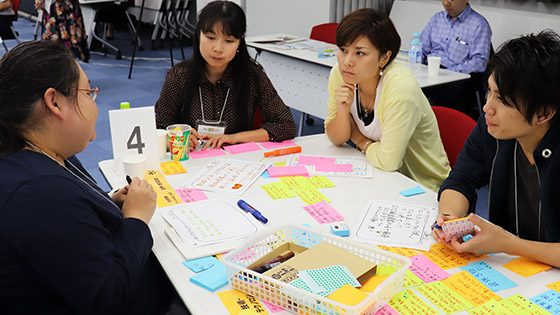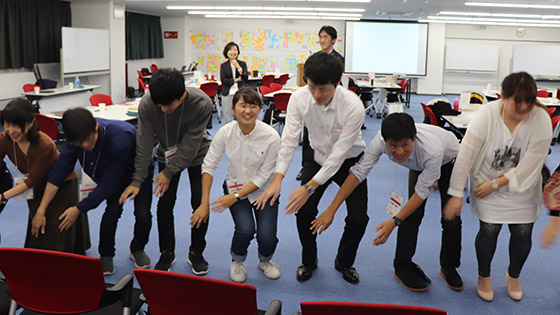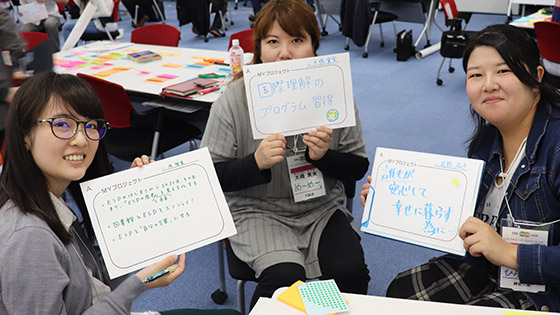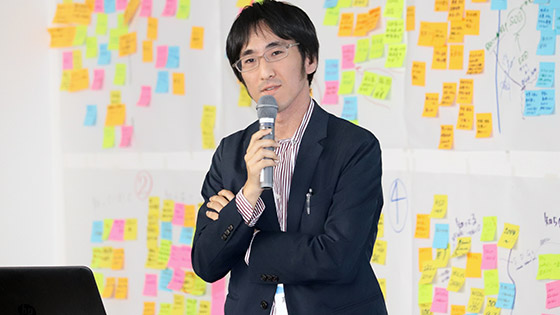 Collaborative projects discussed:
Talking about our future through ESD
Designing a website for children on SDGs
Teaching children how to live super-happy lives
Multistakeholder knowledge sharing project on education
Developing waku-waku (=exciting) projects for inspirational learning
Helping local communities earn money on their own
Workshops on discovering our own prejudice
'Dream Workshops' to praise ourselves for who we are
Each of these projects is filled with the enthusiasm and passion of all the participants, and could only have been created by this particular group of individuals. As participants plan out the details through face-to-face meetings and online discussions all across Japan, each project is now starting to take shape.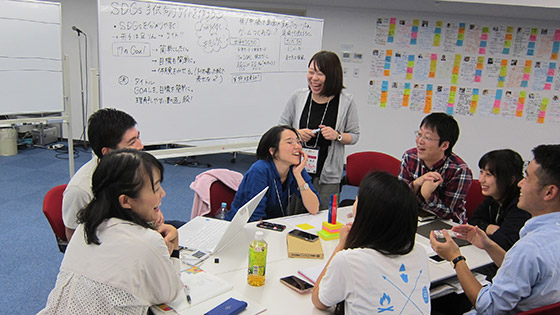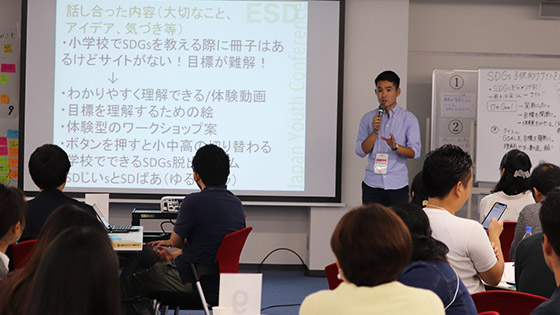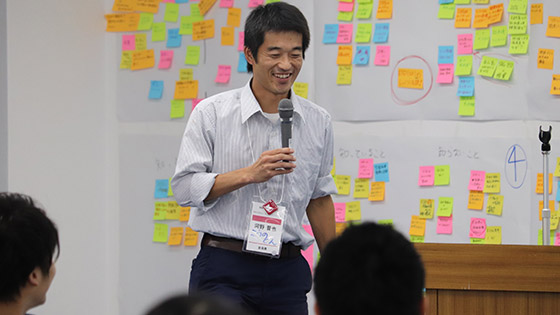 Step forward. Ending is a new beginning


At the close of the conference, all the participants gathered in a large circle and shared with their colleagues of the past two days their personal commitments and action plans regarding how they will continue contributing to ESD and to society.
Each participant put into words what they were thinking and feeling inside. Although everyone's feelings were different, what they had in common was that they were all looking toward the future they would be creating from here on.
"Ending is a new beginning." This conference was the starting line. The participants stepped into the future with the belief that they really can change the future through education.
After the conference, many of the participants joined in a networking dinner with youth leaders and experts who practice ESD in the Aichi-Nagoya Area. They actively exchanged information and views.
On the next day, some of the conference participants visited the Nagoya International Junior and Senior High School, which is one of the leading UNESCO Associated Schools in Japan in the practice of ESD. The participants held two workshops for the students at the school.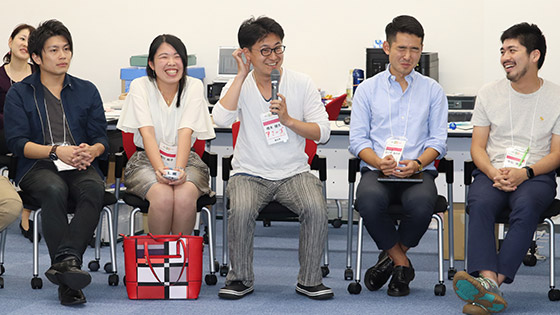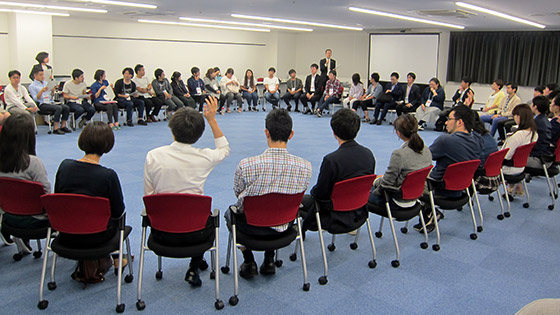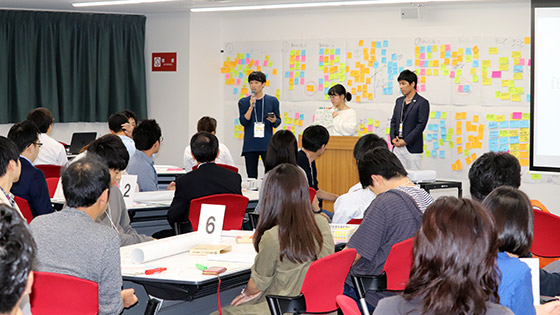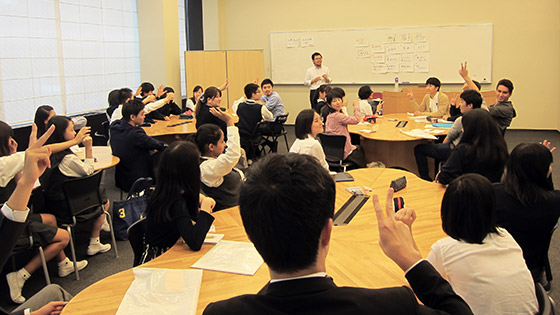 Currently, the members of each project team are communicating online as well as in person to plan and implement their collaborative projects. In addition, consultation meetings with mentors and reunions have been held at four different locations around Japan so far.
An ESD Japan Youth Platform Meeting is scheduled to take place in Tokyo on 17 February 2019 to present progress on collaborative projects by participants in the 2018 conference, and to facilitate networking and exchanges among the past conference participants and ESD practitioners from across Japan. With each year, the ESD Japan youth platform continues to grow.