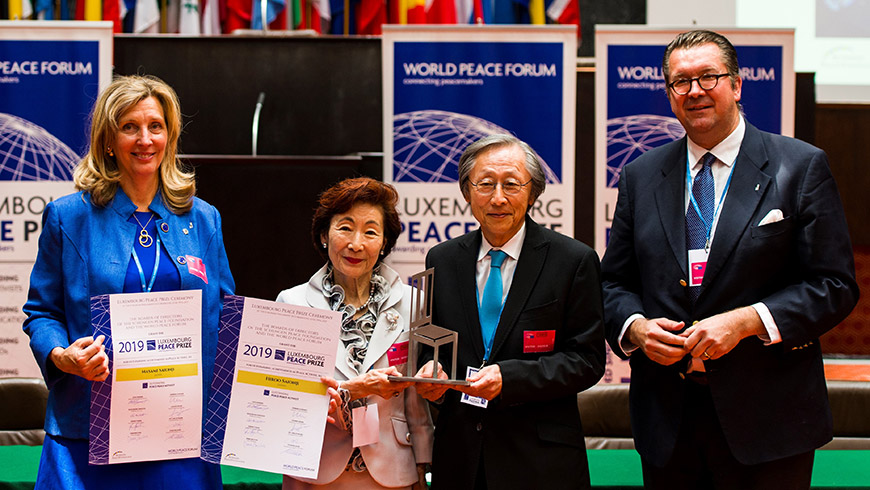 Chairperson Masami Saionji and President Hiroo Saionji of the Goi Peace Foundation were awarded the 2019 Luxembourg Peace Prize in the category of Outstanding Peace Activists, in recognition of their pre-eminent efforts and initiative to promote peace.
The Saionjis received the prize in a ceremony held on June 14, 2019, at the historic European Parliament Schuman Building in Luxembourg.
At the ceremony, Hiroo presented the work of the Goi Group to the many peacemakers gathered from around the world, concluding that "in this uncertain times, more than ever, it is important that awakened citizens around the world join hands to reverse the current trend to build a positive future together," while Masami expressed her deep honor and gratitude saying: "Our global work for peace could not have been possible without all the members and supporters in Japan and around the world. We receive this award on behalf of these grass-root activists."
Other distinguished laureates of 2019 represent a diverse mix of activists, political leaders, business leaders and artists in ten categories, including Rotary International for Outstanding Peace Education, primatologist Dr. Jane Goodall for Outstanding Environmental Peace, and Zen Master Thich Nhat Hanh for Outstanding Inner Peace.
Each year, since 2012, the Schengen Peace Foundation and the World Peace Forum award the prestigious Luxembourg Peace Prize to outstanding peacemakers and activists from around the globe. The award comes in alignment with the efforts of the Schengen Peace Foundation, founded in 2005, and approved in 2007 by His Royal Highness Grand Duke Henri, as a Peace-Think-Tank, supporting peacebuilding.
Learn more about the Luxembourg Peace Prize
Watch the news video – RTL Reports