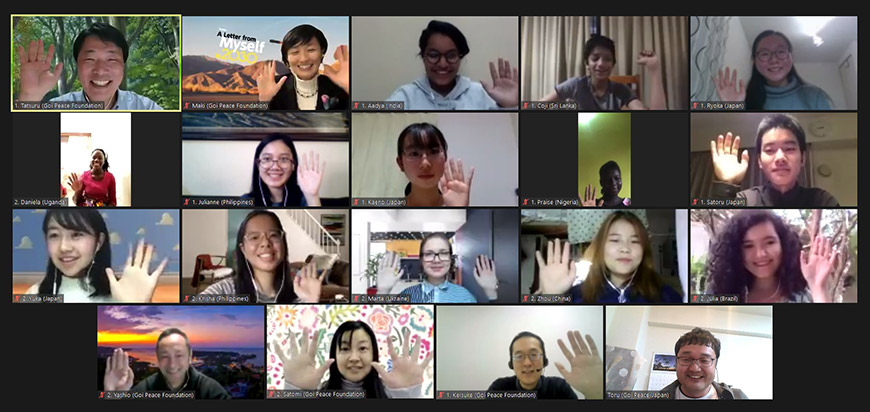 The International Essay Contest for Young People aims to harness the energy, creativity and initiative of the world's youth in promoting a culture of peace and sustainable development, and to inspire society to learn from its young minds and think about how each of us can make a difference in the world. In each of the past years, the Goi Peace Foundation has received unique essays by young people from more than 150 countries.
An online "Winners' Gathering" for winners of the 2020 contest was held on December 19, 2020. The aim of the gathering was to bring together these 'leaders of tomorrow' in order to meet across borders, make new friends and learn from each other about diverse values.
13 winners ranging between 12 and 23 years old from nine different countries gathered over a 12-hour time difference and exchanged ideas based on their winning essays, which were all written on the same topic: "A Letter from Myself in 2030." Below are excerpts from their discussions.
After writing your essay, what changes or new discoveries did you notice within yourself?
*The 2020 theme was "A Letter from Myself in 2030." We invited the entrants to imagine what an ideal world ten years from now would be like, and to write a message from their 2030 self to their present (2020) self.
"I opened my eyes to the environment, and discussed how to help the environment with my friends. Little things like throwing trash into the waste bin do matter.
" 
(Praise)
"It motivated me to reach out to people, to make them feel the necessity of changing the environment. To make people connect is important. I believe people read my essay and think, 'Wow, I can also do something like that.'" (Coji)
"
It gave me an opportunity to think about an ideal future that we want, and to think about what we can do to make that future possible. That was important to me, because at my age I need to think how I want to grow up to be. By writing my essay, I was able to understand myself more deeply." (Ryoka)
"This was an unforgettable theme that I have never seen in essay competitions like this. It was very helpful for me to try to understand where I am going, where my future is going. Despite everything that is happening in the world today, it's up to me to see a brighter and more optimistic future." (Daniela)
"As I was writing this essay, I had to think of the problems in the Philippines and in the world that could be solved in the future, and how. I realized that if we cooperate and communicate with each other better, we will be able to solve those problems in the future. It gave me more hope that we will be able to solve these problems." (Julianne)
"I thought about how I should be involved in solving various problems in the world. There are two things I found by writing my essay. Firstly, the keys to solving various problems in the world are closer to us than we think. Secondly, I have to make the most of diversity, and do what I can to contribute to the world." (Satoru)
"It made me realize that there are small things that can help us make our future better. You don't have to do something big. You just have to maybe not throw garbage around, but dispose of garbage properly. If one person starts thinking something, everybody starts thinking about it. We can make a greater thing happen. It helped me see a vision of how I want to see the world in the future." (Aadya)
"I thought the past is one thing and the future is another and that these are different things, but that is not true. I found that the past and the future are connected. What I was made me who I am, and what I am makes what I will be. In my essay I was able to notice this." (Kaeno)
"When I wrote my essay, the pandemic had only started in Brazil. Throughout this year I've learned to cherish the moments we have and the people around us, because they will not be here forever. Also, through seeing what I want to be, I realized that what I am doing today is enough to make me who I want to be. So I started to analyze not only my future self, but also my present self, and how my actions can build the future." (Júlia)
"Before writing my essay, I was just interested in the problem of refugees, which was new to me. But it is a serious problem we must solve—both as a member of the world and as a Japanese. After writing this essay and being selected for the second prize, I was very glad and I was able to have confidence in myself, because the judges accepted and understood what I wanted to convey and the society that I hope for in the future." (Yuka)
"After writing my essay, I realized just one simple truth. Not someone else but only I can cause positive change in the world and life. I want to see everyone start and realize all your dreams, because you can do this. If you throw a boomerang of hope, you can cause a positive change in the world." (Marta)
"I was really surprised to be chosen as a winner. My dreams and hope were heard and recognized by you. As a young person, I hope I can accumulate more experiences in the future for what I wrote in my essay. I'm really happy now, and on my way." (Xiangfei)
"
I am very thankful for this opportunity because I realized that there are adults out there who are willing to listen to the views and opinions of young people. Sometimes we young people feel our ideas are not heard enough. So, I hope that this contest and platform can create a ripple effect, wherein youth have more of a voice in how we want the world to be in the future.
"
(Krisha)
Which words, phrases or sentences of other winners' essays impressed you the most, and why?
Is it beneficial to me? Is it beneficial to others? Is it beneficial to the world at large?
(Your future begins today Dudley Cojitha Senanayake)
"One thing that really triggered me was how you said that we need to evaluate our actions through three gates—whether the action is beneficial to me, to others and to the world at large. And I was very inspired by that."
…it is your daily decisions that will determine the reality of this inescapable future…
(Wiser Guider Future Praise Mmesomachukwu Chukwumereze)
"This is one line that I really liked. It told us that we can make our future. It's in our hands. We hold the power to make our own future. And if everybody does that, the future will be a beautiful place to be in."
Because there are differences between us, we need each other.
(Lopsided Scale Ryoka Tanoi)
"This phrase made me realize that the diverse aspects of each person have a major role in solving many problems."
…we're slowly building back the world together, piece by piece. (Piece by Piece Julianne Francesca Berse)
"This line is so beautiful. It showed how many generations are starting to understand what we need to do to make the future brighter, how we need to sustain ourselves and grow together."
What did you learn from other winners' essays?
A Diamond In The Rough Daniela Odong Asianut
"I was deeply touched because I realized that any global changes originate in ourselves. So, we should firstly realize it in our minds and then share it in society. We should create diamonds in our heart every day, and it will help us to promote our ideas and to preserve the highest moral values that we possess."
To Myself in 2020: Don't Give Up Satoru Ozaki
"I really like the message that you brought across, because it says you do not have to wait until you're older to do what you think is right, and to speak up for what you believe in. We need to bring our ideas forth so that we can make the future a better place."
To my past self Kaeno Shimizu
"I really liked your essay, and I loved how it focused on different issues, such as feminism (the number of woman in politics), self-driving vehicles, and even the medical field." "I also think gender equality is a key issue. Women should be in parliament, because that shows gender equality."
Boomerang of Hope Marta Chernychka
"I think I have read it five times so far. You weren't afraid to look at yourself from many different perspectives. Even though the world is not perfect, we can change it by sending boomerangs into the future."
As we saw in the movies Júlia Peixoto Fernandes
"After reading your letter, I could see new value in art. I was impressed by your sentences, just like in the movies: 'Decisions made in the very first scenes have consequences in the final sequences.' It made me think that if I believe in my decisions and put ideas into action, finally I can become someone I hope to be."
A Melting Pot of Gems Yuka Sone
"I was impressed because you understand that the promotion of the lives of refugees is so important in our world. I'm a future lawyer and I understand that it is important to promote the lives of refugees and their roles in society."
Technology and Ecology: An Egalitarian's View Aadya Kapoor
"You said you wanted to be a professional author. I really think you can do that. And what you wrote about the ways AI can change the world—I think that's very true. And I liked the quote you got from Abraham Lincoln: 'The best way to predict future is to create it.'"
Back To Nature Zhou Xiangfei
"If there are more people like you in my country, who have a great ambition to contribute to the future of their communities, we can solve problems such as depopulation and the economic gaps between urban and rural areas. I like your sentence: 'I look down the path at the end of the village, which not only leads to distance but also to the future.'"
The Ripple Effect Krisha King Lim
"I think it's wonderful that you researched how to manufacture medical supplies from other sources such as algae and plants, and that you try to contribute to solving the global environmental problems that you think are a cause of the pandemic."
Time flew by quickly, and before closing the 1.5-hour program, the participants expressed their gratitude to the other winners, with a shared vision for creating a better future, and having felt the joy of making new friends from the opposite side of the globe and exchanging ideas, as well as of learning from various points of view.
Some of the winners expressed their excitement for the next online winners' gathering. The Goi Peace Foundation will continue to connect young people from around the world, and to support them in playing a leading role in the creation of peace for a brighter future.
Participants in the 2020 Online "Winners' Gathering"
All ages are as of June 15, 2020.