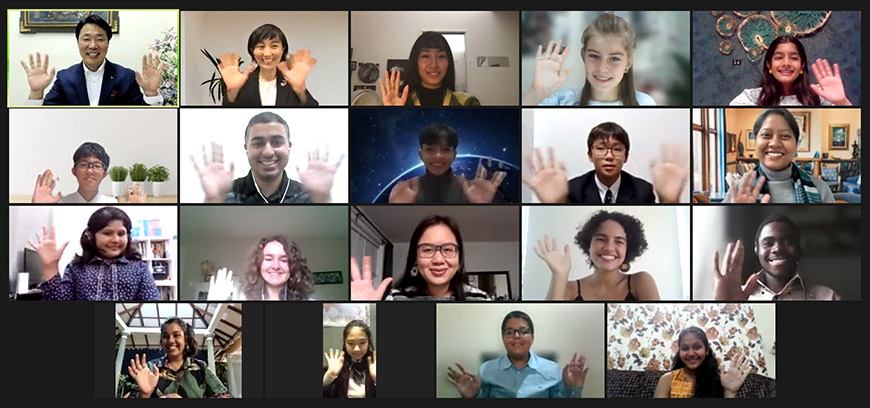 A Virtual Award Ceremony was held on 31 October, 2021, to honor the first, second, and third prize winners of the 2021 International Essay Contest for Young People.
18 winners from 13 different countries gathered from around the world and received congratulatory messages from the organizer, corporate sponsors, and past winners.
After the ceremony, they joined an online Winners' Gathering, in which they could talk with one another and cultivate their friendship.
Virtual Award Ceremony, with many congratulations to the winners
The Virtual Award Ceremony opened with fanfare, and the winners in each prize category were introduced, beginning with the first prize winners, who received a certificate of commendation from the Minister of Education, Culture, Sports, Science and Technology of Japan, followed by the second and third prize winners. The winners expressed their joy in remarks such as: "I'm not very good at writing, but I just wrote what I am thinking about every day. I'm honored that my essay was so highly appreciated" (Ryoya Nakayama, 2nd prize winner in Children's category, from Japan), and "I'm just very grateful for how this made me think more about life, especially during the pandemic" (Hetian Xu, 2nd prize winner in Youth category, from U.S.A.).
Next, the winners received congratulatory messages from the corporate sponsors of the essay contest:
"This year's essay topic was "What is Life?" — a question about our origins. This topic is difficult even for adults, but all of 's caought about it very deeply. Each and every word in your essays struck a chord in my heart."
(Ms. Kiyoko Niwasaki, Executive Director of Seiko Holdings Corporation)
"Each of your essays reflected your youthful sensitivity and sincerity. I truly hope that your individuality continues to be respected and nurtured in the future."
(Mr. Eiji Shintaku, Managing Director and President of PLUS Corporation)
Following this, two former first prize winners congratulated this year's winners with encouraging messages:
"Your essay could be your gift to the world. Your words have incredible power. Power to inspire, encourage and make change happen. Spread the message of hope and gratitude all over the world."
(Anjali Sarker, 2012 winner in Youth category from Bangladesh)
"Each of you have done amazing inner work to write your essays. I encourage you to reflect on how far you have come, and to use that as a platform to even stronger outer work that would transform our society in meaningful ways.
(Narayan Kulkarni, 2015 winner in Youth category from U.S.A.)
Before closing, each winner gave a personal answer to the 2021 theme, "What is Life?" in their own words. A slideshow of this section was presented during the Goi Peace Foundation Forum 2021 "Creating a Future Beyond Our Imagination", held online on November 20, 2021. Many of those who watched it said that they were deeply moved.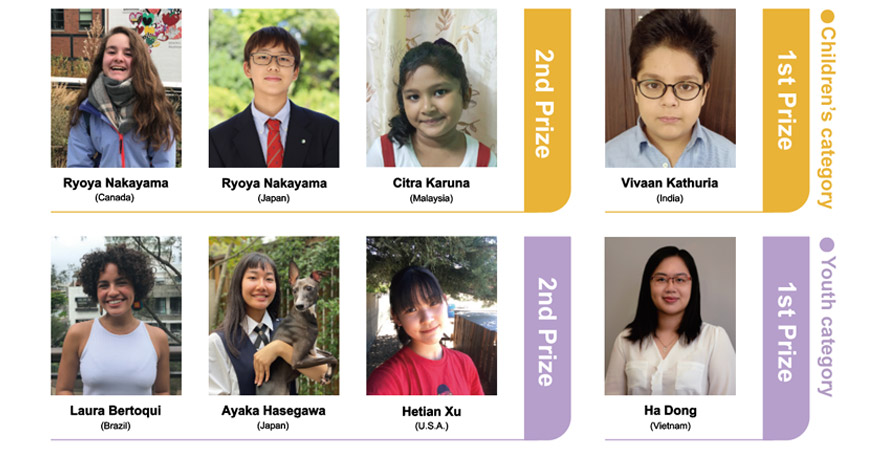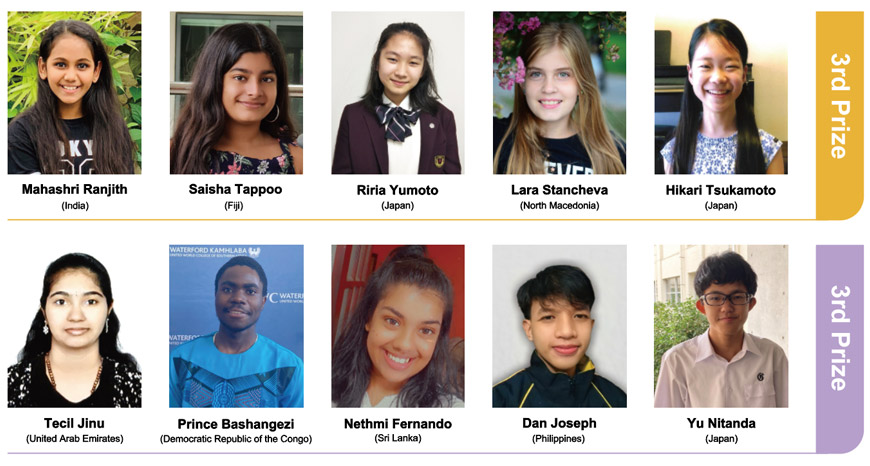 2021 Essay Contest winners
In the online Winners' Gathering held after the Virtual Award Ceremony, participants shared their creative ideas and positive visions for the future, and made new friends through dialogue.
Topic 1: "What was the biggest challenge in your life and the happiest moment in your life?"
Participants' answers included the following:

Biggest challenges

Practicing for long hours in my school's archery club until late in the evening every day, but eventually not doing well in the final competition.
Long hours of preparing for entrance exams, including going to prep school on all days of the week except for Saturday.

Happiest moments

Birth of my younger sister.
By becoming a prize winner, I realized I have a big influence on people around me.
Topic 2: "How has COVID affected your life?
Both negative and positive answers were shared:

Negatives

I was unable to interact freely with my friends due to the lockdown.
I experienced a lot more fear and uncertainty than before, given that the virus was infecting many people, and people didn't know what would happen in the future.

Positives

I was able to think about what I could do for everyone.
I was able to spend more time with my family, who are otherwise busy when at work.
Topic 3: "What kind of future education and learning do you dream of?"
Education that teaches young people about current challenges in the world, and in which we can connect people of all places online and can come up with solutions to world problems.
Education that teaches us to be more loving and compassionate.
Teaching the value of life.
Education that teaches young people to have dreams.
Education that helps people share their feelings and thoughts freely to cultivate mutual understanding.
Free education that is accessible to everyone.
Education in which we can meet face to face.
Education for young people to become role models.
Classes that teach us about real life skills, and where we can learn more about the world.
Several other ideas were shared by the young participants, who themselves are beneficiaries of education. One of them commented, "It was the happiest moment in my life to be able to speak with people from different countries."
The Goi Peace Foundation will continue to organize programs that enable young people to connect with one another, transcending their differences, exchanging opinions and enjoying the diversity of backgrounds and views.
Watch the video of the Virtual Award Ceremony.