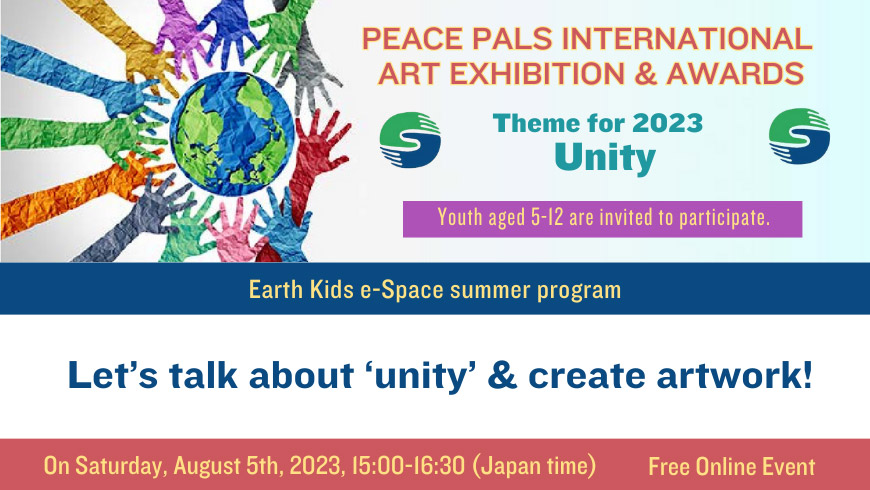 Youth aged 5-12 from around the world are invited to join the Earth Kids e-Space summer program and submit their artwork to the annual Peace Pals International Art Exhibition and awards, co-organized by the Goi Peace Foundation and our sister organization May Peace Prevail on Earth International. Having partnered with Unity Earth, the theme for 2023 is "Unity". During this summer program, we invite the participants to share thoughts as to what unity means to them and create their artwork with this theme.
Let's talk about peace and unity, and create artwork together in a pleasant atmosphere!
It doesn't matter if you are good at painting or not. Let's all have fun! We hope many of you to join us!
Registration for participation
REGISTER HERE
Date/time
Saturday, August 5th, 15:00-16:30 (Japan time)
Global time converter
Admission
Free Online Event (Zoom Meeting)
Targets
Youth aged 5-12
What you need to prepare
Postcard-sized paper
Painting materials such as watercolor, oil, pastel, etc.
Registration
To participate, please register from the following registration form by Wednesday, August 2nd, 2023 (your local time). Due to an operational reason, only a total of 20 participants will be accepted on a first-come-first-served basis.
REGISTER HERE
We will send you the details for participation by Thursday, August 3rd, 2023.
Organizer
Earth Kids e-Space Summer Program Team
The Goi Peace Foundation
Email kids@goipeace.or.jp