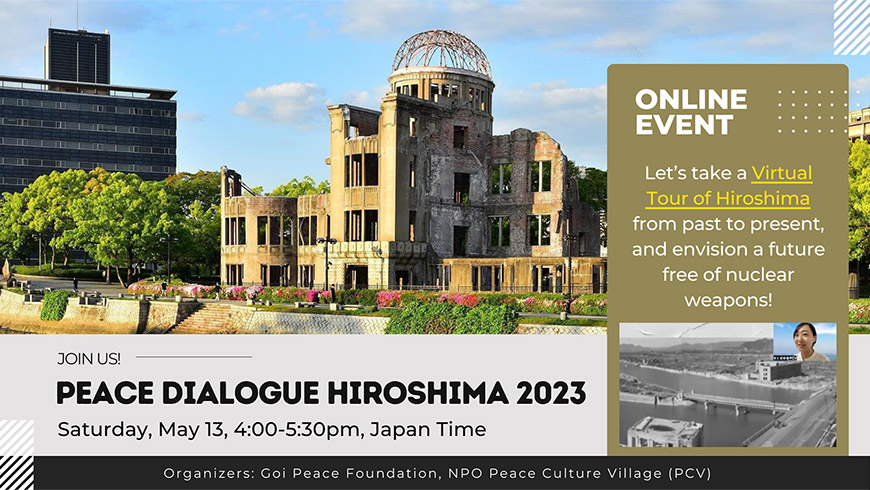 Summary
On Saturday, May 13, in conjunction with the G7 Hiroshima Summit, the Goi Peace Foundation, which develops educational programs to foster leaders of peace, and Peace Culture Village (PCV), a non-profit organization that promotes youth-led peace education in Hiroshima, hosted the online event "Peace Dialogue Hiroshima 2023."
330 young people from 39 different countries took part in the event. They ranged in age from teens to 30s, with diverse values and cultural backgrounds. Through a virtual tour of Hiroshima Peace Memorial Park and facilitated dialogue, they reflected on what they can do to create a culture of peace, not only for their own country and its leaders but for all people.
Report
In his opening message, Hiroo Saionji, President of the Goi Peace Foundation, said, "I hope that through open dialogue among young people, we can share ideas to prevent the repetition of tragedies and deepen mutual understanding for a peaceful, nuclear-weapon-free world." Steven Leeper, former President of the Hiroshima Peace Culture Foundation and founder of the PCV, remarked, "Hiroshima is a fitting base for dispatching a 'culture of peace' to counter the culture of war, and I hope this event will be a catalyst for building peace."
The Hiroshima Peace Memorial Park Virtual Tour, navigated by PCV staff, took visitors on an online tour of the area around the hypocenter, which was recreated using digital technology, to learn about the town and people's daily lives before the atomic bombing, as well as the reality of the bombing and the history of reconstruction after the bombing.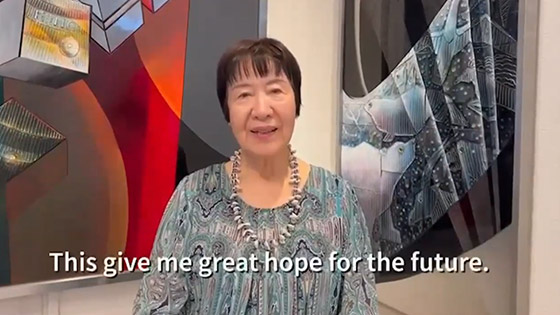 The virtual tour concluded with a message from Ms. Toshiko Tanaka, a Hiroshima resident and A-bomb survivor: "I believe that the path to peace begins with our small steps. Please make friends around the world. When problems arise between nations, you don't want to drop bombs on the heads of your best friends. Make this issue your own and take the first step forward.
The young people discussed their impressions and insights after the tour, and talked about what they can do for peace.
Voices of young people
1. Impressions and insights
My feelings were greatly shaken as a human being. Why does humanity continue this foolish game? The words of Toshiko Tanaka resonated in my heart. People divide themselves from others, but consequently, we are all the same human beings. (Bangladesh)
Countries must stop building nuclear bombs in order to avoid incidents like Hiroshima.(Iraq)
War is very scary! I am from Ukraine and I understand this situation very well. Therefore, in my opinion, we should solve all problems with words, not with war! (Ukraine)
The Peace Culture is extremely important. I have to think about the war effect on children as a Children's human rights protection expert. We have to study and learn from history. (Russia)
2. What we can do for peace
The idea that as people from different parts of the world, we need to befriend each other, make connections with each other and stand up for each other in order to ensure peace in this globe. (South Africa)
To be intentionally mindful of maintaining inner peace while concurrently trying to understand other people's cultures (without biases), so as to radiate peace. (Nigeria)
That everything is connected and that every choice that I make matters and can create ripples of effects. (The Philippines)
The event generated a profound sense of responsibility. As a youth, it is up to us to ensure a more peaceful world for future generations. (India)
Small kind gestures on a daily basis will be a step forward towards contributing to a peaceful world and I will proudly be part of that. (Pakistan)
3. Questions that came up after participating in this event
I wonder why we humans fight so much over petty issues. I also ask myself what more we as individuals can do to promote peace. (India)
Why countries continue to manufacture nuclear weapons even when they know the danger it causes and also why bombing civilian residences doesn't have major implications. (Uganda)
Why is it so difficult to correlate the theoretical peace we have discussed with the practice of states and governments? How far are we from true global peace, between humans and between all that exists? What is the next step, individually and collectively, towards nuclear disarmament? (Brazil)
What's the point of winning wars when all of us are suffering? (Myanmar)
When will we grow up and stop killing each other? In 100 years? In 1000 years? In 10,000 years? (Russia)
In this world of evolving technology, how can technology be utilized for the movement of peace? (Bangladesh)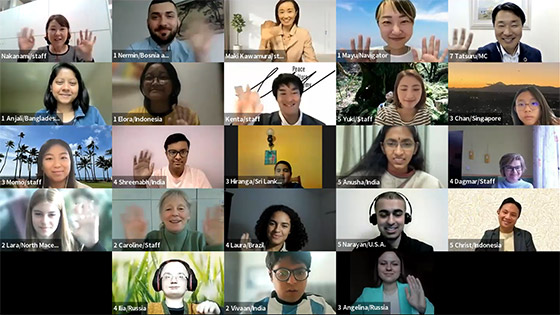 The young people who participated in this event learned and realized many things, and also reaffirmed their belief that it is each person's strong desire and actions for peace that will foster a culture of peace.
The Goi Peace Foundation will continue to disseminate the voices of young people around the world who are sincerely committed to creating a culture of peace, and will continue to develop various educational programs to nurture leaders of peace.
*Youth participants (39 countries)
Afghanistan, Algeria, Bangladesh, Bosnia and Herzegovina, Brazil, Canada, Chile, Ecuador, Egypt, Fiji, India, Indonesia, Iran, Iraq, Japan, Kazakhstan, Kenya, Lesotho, Malaysia, Mexico, Myanmar, Netherlands, Nigeria, North Macedonia, Pakistan, Philippines, Poland, Romania, Russia, Singapore, Slovakia, South Africa, Sri Lanka, Syria, Turkmenistan, Uganda, Ukraine, USA, Uzbekistan
Inquiries
Goi Peace Foundation
Heiwa Daiichi Building, 1-4-5 Hirakawacho, Chiyoda-ku, Tokyo 102-0093, Japan
TEL 03-3265-2071
513peace@goipeace.or.jp
Peace Culture Village (PCV) NPO 
26, Fukuda, Konu-cho, Miyoshi, Hiroshima 729-4111, Japan
peaceculturevillage.org