In March 2021, the Goi Peace Foundation helped organize the Local SDGs Youth Dialogue, a three-day event sponsored by the Japanese Ministry of the Environment, combining online and face-to-face sessions in Okayama and Shiga Prefectures, with the aim of fostering leaders who can contribute to the creation of a sustainable society by solving local issues and promoting new values.
"Local SDGs" is a concept that aims to maximize the vitality of local regions through the integration of environment, economy, and society, by forming a self-reliant and decentralized society while maximizing the use of resources available in each local area, as well as through mutual support and resource sharing based on the characteristics of each region.
24 young people (16 from Okayama Prefecture and 8 from Shiga Prefecture and neighboring prefectures) participated in the event, all of whom are either engaged in local issues or have a strong interest in engaging.
The Foundation took advantage of its experience in ESD (Education for Sustainable Development) projects to plan and implement the program.
Objectives of the youth dialogue
The SDGs (Sustainable Development Goals) are international goals for solving the various global issues we face, such as poverty, hunger, climate change, educational and economic disparities, and the desire for greater peace and justice, with the aim of realizing a better and more sustainable world for all.
The main purpose of the event was for these youth, who represent the next generation of their communities, to learn about the SDGs and good practices around these goals, to co-develop a vision for the future of their communities, and to find the next steps toward a sustainable society while connecting with like-minded peers.
In addition, 8 members of ESD Japan Youth, a youth community of former participants in the annual ESD Japan Youth Conferences held by the Goi Peace Foundation from 2014 to 2020, served as facilitators for the program. It was a new style of dialogue, in which members of the young generation learned from each other.
Learning about the SDGs, connecting with friends, and finding 'seeds' to plant
The DAY-1 sessions were held online on Sunday, March 7th. The video presentation began with a message from Ms. Kiyoka Miki, Director of the Office of Environmental Education, General Policy Division, Ministry's Secretariat of the Ministry of the Environment of Japan, followed by a lecture by Dr. Kumi Tashiro, Deputy Director of the Office of Environmental Education. Participants learned about the philosophy and implementation of using the SDGs in building local communities, as promoted by the Ministry of the Environment in various parts of Japan.
Next, through a lecture and workshop by Mr. Tomohiro Izawa of the Junior United Nations Eco Workshop (JUNEC), participants learned the basics of the SDGs and how to create questions that broaden our scope of thinking, which is needed in order to uncover and solve various issues.
A week later, the Day-2 sessions were held face-to-face, with all COVID-19 precautions in place, on Saturday, March 13th, in Okayama and Sunday, March 14th, in Shiga.
Mr. Masaaki Nagareo of Okayama City and Ms. Megumi Kodama of the Taneya Group, headquartered in Shiga Prefecture, were invited as special lecturers at the respective venues. They discussed various examples of the challenges faced in implementing the SDGs locally, and participants gained a deeper understanding of the issues.
After these sessions, participants discussed what they had learned over the two-day program. They envisioned the future together, and ultimately found the 'seeds' of activities they would like to implement, which will form the foundation of their own undertakings in the future.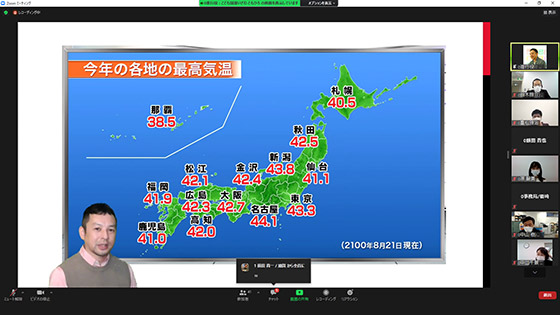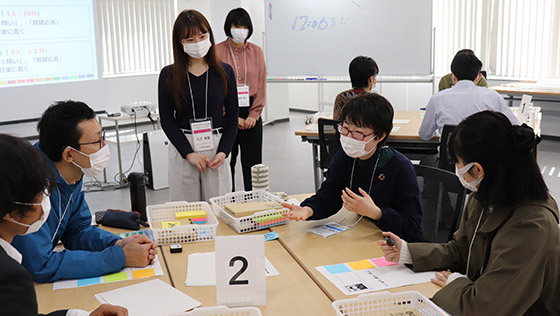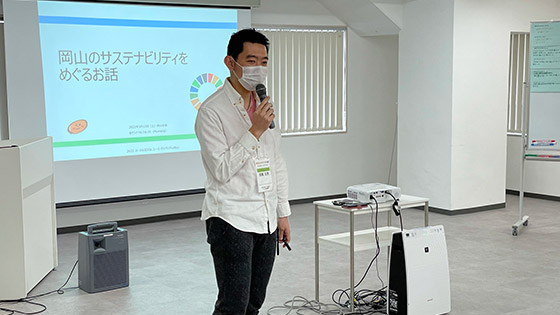 Taking the next steps toward a sustainable future
On Sunday, March 21, the participants gathered online again for DAY 3, the final day of the event.
Based on the aforementioned 'seeds' of activities that they had found, participants proposed 10 breakout sessions, and engaged in a lively exchange of ideas for taking their respective next steps. Breakout session topics included:
Holding regular events where youth can learn about the SDGs and become more motivated to achieve them;
Approaching the SDGs from both local and global perspectives;
Creating opportunities for exchanges between Japanese and international students;
"School x [???] (New possibilities for development and creating mechanisms at schools).
Changes in awareness and behavior brought about by participants
In the questionnaire provided after the event, more than 90% of the participants answered that their awareness and behavior had changed after attending the program.
Their comments included the following:
"I would like to implement perspectives that combine the global and the local in my field."
"I realized that social problems are complex and diverse, so that it is not enough to solve just one problem. I felt the need to understand problems from a broader perspective."
"Having knowledge is of no use if we don't put it into action."
"As a university student, I would like to get involved in local activities first."
"I want to think about how I can be involved in achieving the SDGs, even by taking small actions. And I want to cooperate with various people on initiatives that will turn into businesses."
It was clear from their comments that participants grew personally from this event, and that they are motivated to engage in future activities.
Mr. Toshihiro Iwawaki of the Shiga Prefectural Board of Education, who served as an observer, commented, "Listening to the group presentations and the dialogue among youth participants, I learned that a great deal can be done even in a limited time."
Following this event, plans were immediately begun to organize a new event in collaboration with local youth groups, to talk about the SDGs with many young people in Okayama, as well as to organize an international exchange event. Discussion is already ongoing to implement these plans.
In addition, the number of participants in the study group organized by volunteers of the ESD Japan Youth Community has increased, and its youth community continues to develop.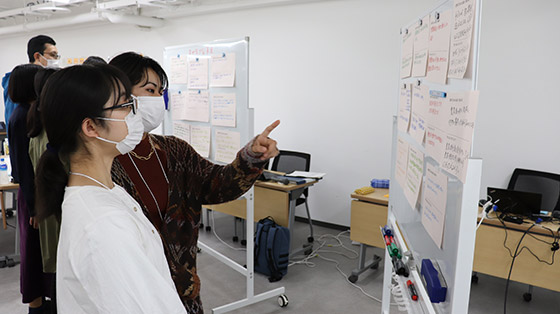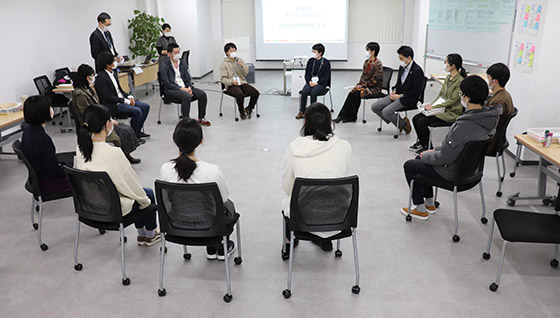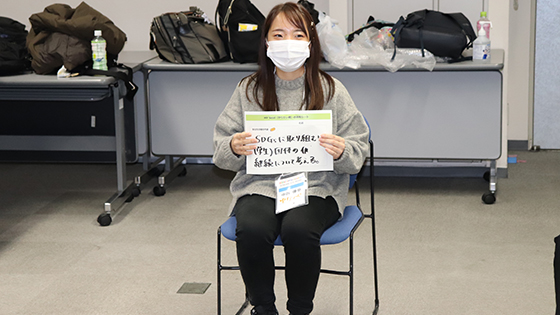 VIEW PHOTOS
About the Local SDGs Youth Dialogue
Organized by
The Ministry of the Environment of Japan
Secretariat
The Goi Peace Foundation
Endorsed by
The Ministry of Education, Culture, Sports, Science and Technology of Japan
Japanese National Commission for UNESCO
National Federation of UNESCO Associations in Japan
ESD Resource Center of Japan
Shiga Prefecture
Shiga Prefectural Board of Education
Okayama City
Okayama ESD Promotion Commission
Kinki ESD Consortium
Shiga SDGs × Innovation Hub
Supported by
Non Profit Organization Ba-to-Tsunagari Labo home's vi
Junior United Nations Eco Workshop (JUNEC)
SDGs Network Okayama Wakmono-bukai "Maison de SNOW"
This program was commissioned by the Ministry of the Environment as "Local SDGs Youth Seminar, FY2020-21".