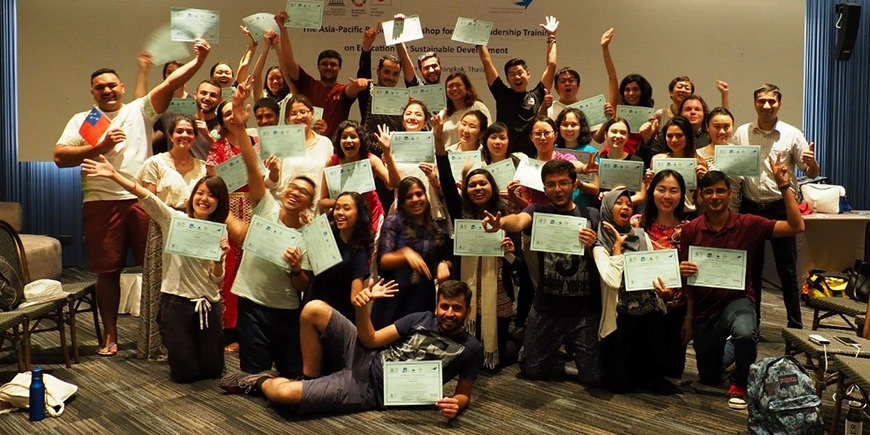 On 15-17 November 2017, an Asia-Pacific Regional Workshop for Youth Leadership Training on Education for Sustainable Development (ESD) took place in Bangkok, Thailand. The workshop was co-organized by UNESCO Headquarters, UNESCO Bangkok, the Goi Peace Foundation and the Earth Charter International, bringing together 34 young sustainability leaders (ages 18-35) from 23 countries.
This training program was part of a series of workshops being held around the world under UNESCO's Global Action Programme (GAP) on ESD, with the aim of empowering youth to inspire and mobilize others to take action towards building more sustainable, just and resilient communities. The Goi Peace Foundation has been actively contributing to this priority action area as a GAP Key Partner. For this Bangkok workshop, Patrick Petit, UN Representative for the Goi Peace Foundation, co-facilitated the sessions along with Christine Lacayo of the Earth Charter International.
Day 1 started with a welcoming and a dialogue circle. Self-introductions were given by the participants, who came from diverse backgrounds, including a policy maker from Iran, a social entrepreneur from India, a university lecturer from Kazakhstan, and an environmental activist from the Cook Islands.
The rest of the day focused on "ESD paradigm shift," using transformational pedagogies to shift and expand participants' mindsets. Presentations, videos, dialogue, role-play, reflection, and group exercises were incorporated to explore and reinvent ESD concepts like 'sustainability,' 'systems thinking,' 'conflict transformation' and 'leadership.'
Day 2 focused on "ESD tools." The curriculum was designed to shift from the theory of ESD to preparing young leaders for implementation. In the Visioning, Communication/Facilitation and Networking sessions, participants experimented with skills and techniques that would be useful in their ESD activities, and planned a workshop to conduct locally after the training.
At the end of the day, the participants celebrated their cultural diversity by teaching each other dances from their respective traditions, creating a feeling of unity among the group.
The last day was an excursion to Bang Krachao, an artificial island known as the 'green lung of Bangkok.' Guided by high school students from the local organization, Compass Education, participants observed the natural mangrove ecosystem and the lifestyle of the community using the 'Sustainability Compass' tool, and deepened their understanding of sustainable development in a real-life context.
Having successfully completed the 3-day training program, all the participants received their certificates of completion and joined the global network of ESD Youth Leaders that is being established by UNESCO. They will now carry forward their learnings to reach out to and mobilize more young people in their respective communities to engage in ESD and work together toward a sustainable future.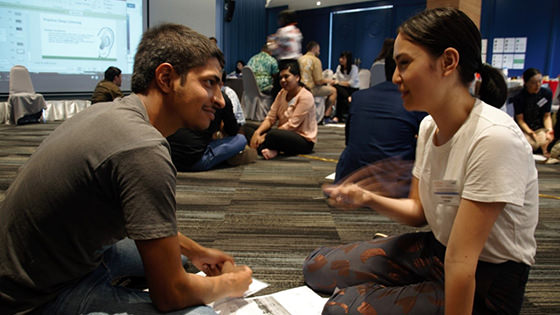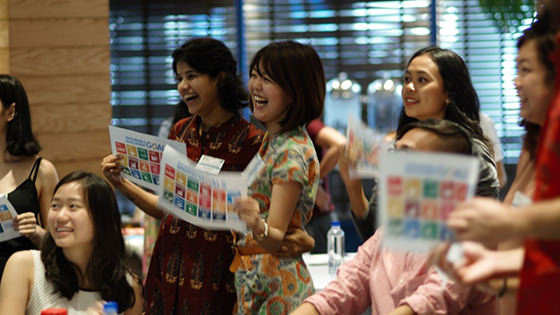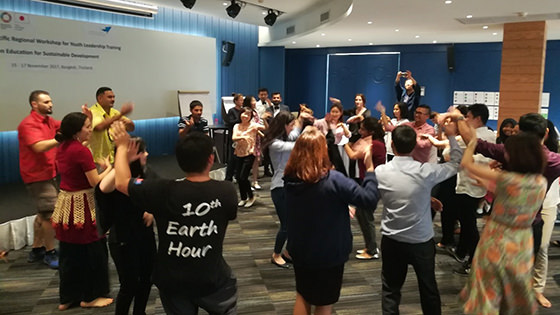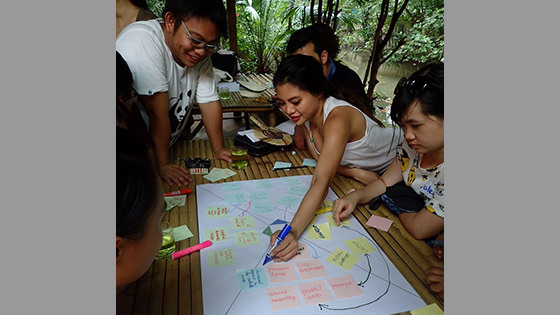 Watch the highlights from this workshop