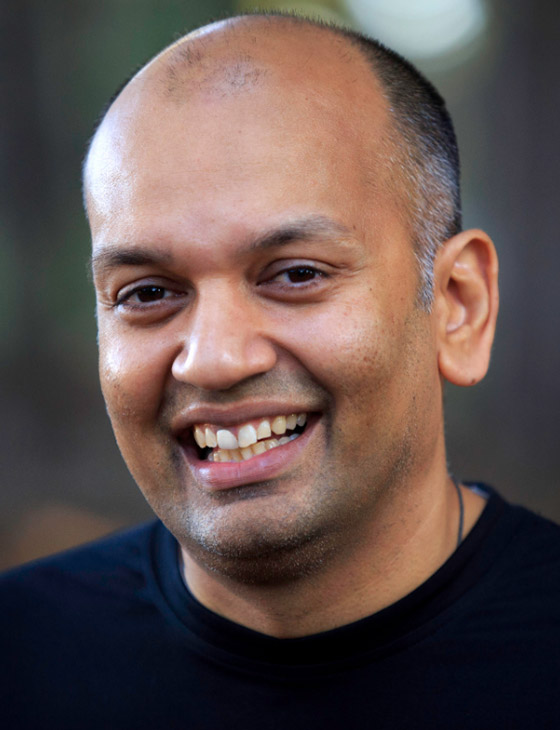 Nipun Mehta and ServiceSpace
Founder and members of all-volunteer organization (United States)
Nipun Mehta and ServiceSpace to Receive the 2019 Goi Peace Award
The Goi Peace Foundation presented the 2019 Goi Peace Award to Nipun Mehta and ServiceSpace, an incubator of projects that works at the intersection of volunteerism, technology and gift-economy.
The selection committee has chosen Nipun Mehta and ServiceSpace for the Goi Peace Award "in recognition of their collective efforts to transform the world through generosity. Through their exemplary acts and through various innovative projects, they have ignited the spirit of service in the hearts of many people around the world, demonstrating that 'giftivism' could shift our societies and economies."
Nipun Mehta will receive the award at a ceremony during the Goi Peace Foundation Forum 2019, to be held at Nikkei Hall in Tokyo on November 23, 2019.
Nipun Mehta is the founder and Chief Inspiration Officer of ServiceSpace, an organization run entirely by volunteers. What started as an experiment with four friends in the Silicon Valley has now grown to a global ecosystem of over 600,000 members from 171 countries that has delivered millions of dollars in service for free. Nipun has received many awards, including the Jefferson Award for Public Service, Wavy Gravy's Humanitarian award, and Dalai Lama's Unsung Hero of Compassion. In 2015, President Barack Obama appointed him to a council on poverty and inequality. Nipun is routinely invited to share his message of "giftivism" to wide ranging audiences, from inner city youth in Memphis to academics in London to international dignitaries at the United Nations. One of his most formative experiences was a walking pilgrimage across India, with his wife of six months, whose profound lessons also became the subject of his widely-read address at UPenn commencement. Nipun's mission statement in life reads: "Bring smiles in the world and stillness in my heart."
ServiceSpace leverage technology to encourage everyday people around the world to do small acts of service. It was originally started in 1999 by volunteers to help non-profits with technical services. Over the past twenty years, without any paid staff, fundraising, advertising, or pitches for media coverage, the organization has grown to become an umbrella for many generosity-driven projects, ranging from a daily positive news service, to an acts-of-kindness portal, to a gift-economy restaurant. Regardless of the endeavor, members of ServiceSpace communities around the globe act in concert to create service opportunities for each other and to support each other's service journeys. ServiceSpace aims to ignite the fundamental generosity in all people, creating both inner and outer transformation.
ServiceSpace website