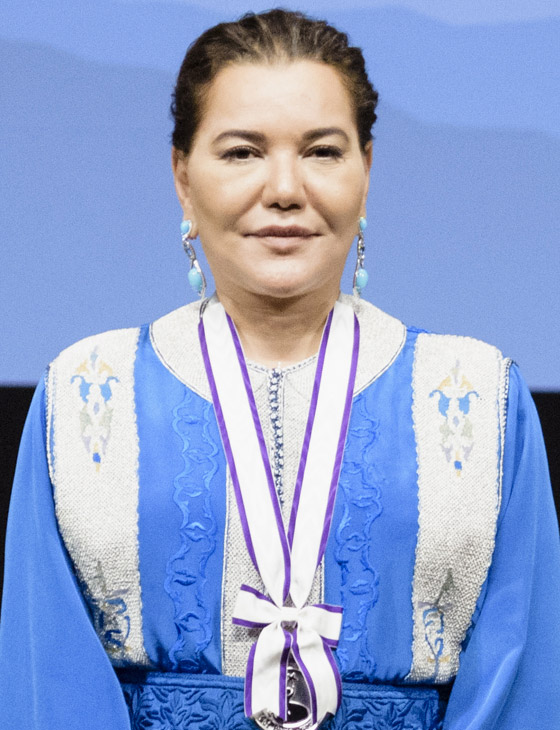 Her Royal Highness Princess Lalla Hasnaa
Princess of the Kingdom of Morocco
"In honor of her leadership in promoting the protection of the environment and improving people's quality of life, particularly through education and advocacy for sustainable development."
As the head of the Mohammed VI Foundation for Environmental Protection, Princess Lalla Hasnaa has been promoting environmental education, coastal preservation, sustainable tourism, air and climate change awareness, restoration of historical parks and gardens, and the safeguarding of palm groves. In particular, she has focused on preparing future generations to take charge of preserving their living environment, and to engage themselves permanently on the path of sustainable development. Under the motto, "All for the Environment," she has elevated the environment to a national agenda involving all potential change agents, including governments, businesses, schools, local communities, civil society, youth and children.
Profile
The youngest sister of His Majesty King Mohammed VI, Princess Lalla Hasnaa has been involved in activities in the service of Moroccan society, with a particular interest in social, cultural and environmental issues. In 1999, she launched the national campaign to protect the country's coastline and beaches. To institutionalize this effort, the Mohammed VI Foundation for Environmental Protection was established in 2001, and Princess Lalla Hasnaa was appointed as president. In this capacity, she initiated various programs and activities for environmental protection and education, and in 2007, she was appointed "Coast Ambassador" by the Euro-Mediterranean Regional Programme for the Environment, backed by the United Nations.
As a global advocate for environmental awareness and education for sustainable development (ESD), Princess Lalla Hasnaa is regularly invited to high-level meetings, notably the UNESCO World Conference on ESD held in Japan in 2014, the 22nd Conference of the Parties (COP22) to the United Nations Framework Convention on Climate Change (UNFCCC) held in Marrakesh in 2016, and the 23rd Conference of the Parties (COP23) held in Bonn in 2017. She was designated as Goodwill Ambassador of the Congo Basin Climate Commission and the Congo Basin Blue Fund in April 2018.