Education for the Future
Her Royal Highness Princess Lalla Hasnaa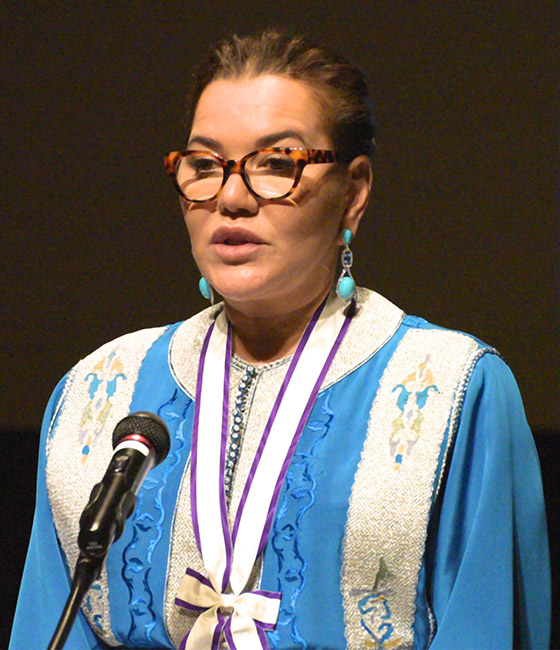 Mrs. Masami Saionji, Chairperson, Mr. Hiroo Saionji, President of the Goi Peace Foundation,
Your Excellencies,
Ladies and Gentleman,
I am both humbled and greatly honored, to receive the Goi Peace Award. I am proud to share this distinction with such prestigious recipients. I wish to thank you on behalf of myself, my country, and the Mohammed VI Foundation for Environmental Protection, which I'm privileged to chair.
I came to Nagoya, Japan in 2014, to take part in the UNESCO World Conference on Education for Sustainable Development, whose objectives we have been fostering in Morocco. When we met on that occasion Mr. President, I never imagined, that the road we were going to travel together, would bring me to address this assembly today.
Guided by a common philosophy, we embarked on a joint process, which led to the signing, in November last year, of a Memorandum of Understanding. We wanted our cooperation, to become closer, and more tangible with each passing year.
In May 2017, we had the pleasure of welcoming you and your wife, to two of our Eco-Schools, in Rabat and Skhirate. As you noticed, the children in our schools, are committed to the same values, of peace and sustainable development, as well as best practices for the protection of the environment.

Ladies and Gentleman,
Educating children means planning for the future, and preparing children for the world they will live in. It also means helping to shape the world, which will be theirs to take care of. This new education, this new way of seeing the planet, is a new way of looking at ourselves, and relations with others.
Caring for the environment, on a planet in which the world population is constantly increasing, means learning to share the planet, and to care about others. It means, building the lasting peace we all yearn for. It means learning to change.
Protecting the environment, means refusing meaningless competition, and advocating instead, relations that are based on sharing, collaboration and respect. In short, relations that are conducive to peace.
In 2001, when the Mohammed VI Foundation for Environmental Protection was set up by His Majesty King Mohammed VI, its key mission, naturally, was about education and awareness. It is a mission, which is, as lofty as it is demanding.
In regards to the immense challenge of protecting the environment, a task which involves all citizens, education should come before all other means and considerations. This is my firm belief as a mother. In fact, any mother has an instinctive urge, to help her children lead fulfilling lives, in a harmonious world – a world at peace.
To be sure, we need rules and regulations, even restrictions to protect our environment, and safeguard the remarkable diversity of the planet. What is essential, however, is to contribute to the emergence of a different world – a world based on cooperation, in which the responsibility for environmental protection, is shared by all, requiring equal effort from all of us.
To educate, and to raise awareness takes time, and requires considerable energy. It's an endless mission. You need to convince people to undertake the same actions, again and again. To save time and speed up change, it would be more beneficial and effective to give proper education to our children, instill in them another culture, and foster a different relationship with the world, and towards others.
In this way, coming generations will be able to approach the world differently, and make the right decisions, in the future, to save our planet.

Ladies and Gentlemen,
This is a long-term mission. Therefore, from the very first years, the Foundation launched programs, such as Eco-Schools, and Young Reporters for the Environment. Nearly 20 years later, no less than 750,000 children, have been educated on environmental protection, and many thousands of students, have reported on environmental issues.
From day one, we laid emphasis on raising environmental awareness among all audiences, regardless of who they are. We have been working closely with government, elected officials, the business community, and civilian organizations.
The Foundation doesn't operate in a closed or isolated environment. Quite the contrary, its actions are enabled through a national institutional framework. The very framework, desired and prioritized by His Majesty King Mohammed VI. It is a proactive, stimulating environment, which promotes community involvement in democracy, and encourages the work of civilian organizations.

Ladies and Gentlemen,
The Foundation advocates a practical, ethical approach. Nothing beats teaching by example.
Drawing up a school environmental assessment report; developing a vegetable garden at school; using a micro-irrigation system; switching to low energy light bulbs; installing flow reducers on taps; or sorting and recycling waste; are simple actions. These are the first steps in environmental conservation. Environmental protection is a matter of simple activities. When they are repeated at a tender age, and adopted by a large number of people, the impact can be decisive and long-lasting.
We never accuse or overburden anyone. Instead, we raise awareness, and encourage a change in behavior. We realize that engaging and explaining, are better than coercion.
Our example-based approach also consists of enabling children, to apply the concepts learnt in Eco-Schools to real life, where their environmental future will play out.
Through the regeneration of historic gardens, we create green spaces in city centers, offering children a chance to reconnect with nature.
We set up educational trails that teach children key environmental notions, in a playful way. By protecting the Marrakech palm grove, and replanting palm trees, we give children from the region, the opportunity to reclaim and protect the spaces they live in.
By organizing visits to the beach, we teach children, about the extreme fragility of the coastline.
We work locally, but we also seek the support of major international institutions, which we have been actively collaborating with, for many years.

Ladies and Gentlemen,
Today, I have the great honor of standing before you, to receive this Award. The broader objective being, to deepen our cooperation, and take joint action to make our world more environmentally-friendly. It is extremely important to promote, proper attitudes towards the environment.
Our two Foundations are working to achieve this highly commendable objective. May I point out, that we fully subscribe, to the principles you define, in your "Declaration for All Life on Earth". Together, we are committed to the same objective, which is to shape people who serve peace. I'm very proud to serve the same cause as you.
I am a daughter of Al Maghrib, or the Kingdom of the Setting Sun, who has come to the land of the Rising Sun, to receive this Award. Between our two countries, the sun never goes down.
I hope that eternal light will be the light of everlasting peace, which we dedicate along with this Award – to the children of our two countries.
Thank you.