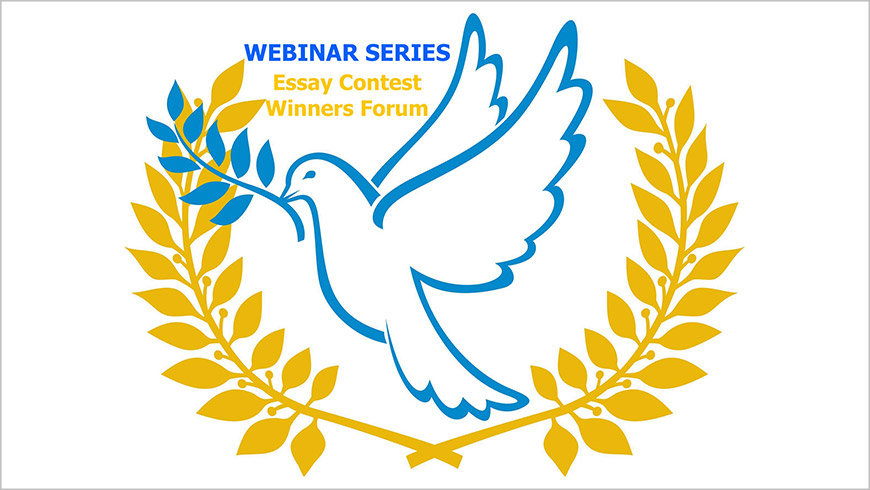 To celebrate the 20th anniversary of the International Essay Contest for Youth People, we are excited to bring you a webinar series inviting First Prize winners from the last 20 years to join in a conversation on timely societal topics.
Since participating in our Essay Contest, many of the winners are pursuing various paths in life and are continuing to make a difference in the world. Everyone is welcome to join the webinar and listen to the inspiring stories and wisdom of these young leaders.
DECEMBER 2019 WEBINAR
Theme:

Youth Innovating for a Better World
Three contest winners from South Asia will share their views and experiences in youth innovation—such as connecting the wisdom of old people and the energy of young people, and harmonizing between the modern technologies with nature—and discuss how young people can be internally motivated to harness their energies for a better future on our planet.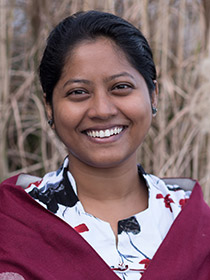 Anjali Sarker (Bangladesh)
Anjali is a social innovation expert and development practitioner with seven years' experience in leading projects that empower the underprivileged population, with a special focus on youth and women. Currently she is pursuing an MSc in Inequalities and Social Science in the London School of Economics and Political Science (LSE). She is an Atlantic Fellow at LSE, a Global Shaper at the World Economic Forum and is a New Voices Fellow at the Aspen Institute. She holds a bachelor's in Business Administration from the Institute of Business Administration, University of Dhaka and a Diploma in Social Innovation from Lund University. Anjali was the Essay Contest First Prize winner (Youth Category) in 2012.
Her Winning Essay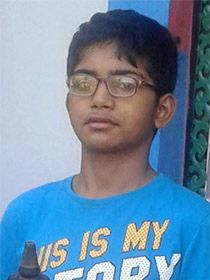 Udayan Saha (India)
Udayan Saha is a 14 years old high school student based in Dehradun, which is a pretty little town located at the foothills of the Indian Himalayas. He frequently travels to the high mountains and is extremely concerned about the deteriorating environment everywhere, both in nature and in human society. He has a travel blog "Come, see the world through my eyes." He was the 2016 Gold Award middle school winner (Prose) of Bow Seat Ocean Awareness Student Contest for his essay on ocean pollution. Udayan has also been awarded certificates (Bronze and Gold categories) in The Queen's Commonwealth Essay Competition. Udayan was the Essay Contest First Prize winner (Children's Category) in 2015.
His Winning Essay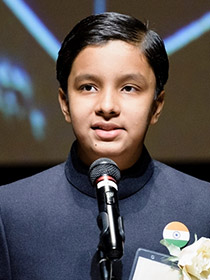 Shreenabh Agrawal (India)
Shreenabh Agrawal is a 16 years old student of Class XI of the Chanda Devi Saraf School and Junior College, Nagpur, Maharashtra India. He is recipient of a Letter of Commendation from IVL Swedish Environmental Research Institute Sweden, a Letter of Commendation from ServiceSpace and many more. Shreenabh is a keen researcher and has research publications in distinguished Indian and international journals. He has been included in the India Book of Records as the youngest author to write a story book on Indian Prime Minister Narendra Modi's exemplary work. He has published more than 150 scientific articles in newspapers and magazines to enhance the scientific motivation in children. Shreenabh was the Essay Contest First Prize winner (Children's Category) in 2018.
His Winning Essay
Watch the webinar
Past Programs
JUNE 2019 WEBINAR
Theme: Kindness – What is it anyway?
JULY 2019 WEBINAR
Theme: Peacemaking and Reconciliation in Post-conflict Societies
AUGUST 2019 WEBINAR
Theme: Towards Gender Equality – A Dream in the Making?
SEPTEMBER 2019 WEBINAR
Theme: Faith as a Peacemaking Force
OCTOBER 2019 WEBINAR
Theme: Rising from Ashes – Turning Painful Experiences into Opportunities to
NOVEMBER 2019 WEBINAR
Theme: The Concept of 'Family' in Today's Postmodern Society
To receive program updates, please subscribe to our mailing list or facebook.